14 Puerto Rican companies participate in NY food fair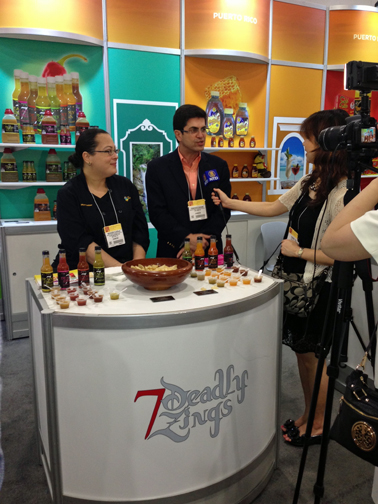 From the traditional "pitorro," "mofongo," and "coquito," to artisan chocolate, typical Puerto Rican candies and coffee, were on display by 14 local companies who participated in this year's edition of the "Summer Fancy Food Show" held in New York. The Puerto Rico Trade and Commerce office sponsored the trip from June 30 to July 2, agency chief Francisco Chévere said.
"Events like this serve as a platform to expose our businesses so they have the opportunity to establish business relationships with major food buyers and wholesalers in the United States and other countries," said Chévere.
In addition to conducting efforts to promote local products at the show, the agency worked a meeting agenda to establish partnerships between the city of New York and Puerto Rico.
"We held a series of key meetings to map out specific work plans that benefit our business, especially in the food sector," said Chévere.
One of those meetings was with Bronx Borough President Rubén Díaz, who instructed his economic team to "provide us all the necessary support to make a reality a Puerto Rican product distribution center in New York, to also supply the New Jersey and Connecticut markets," he said.
Representatives from several other central government agencies, namely the Puerto Rico Industrial Development Company and the Puerto Rico Federal Affairs Administration also participated in the event, promoting products and establishing alliances with New York-based companies.
New York is an important market for Puerto Rico, given its high concentration of island-born residents living there, or people of Hispanic origin seeking typical products from their homelands.
The companies that participated in the food show were: Apiarios Caraballo (honey), Café Lucero (gourmet coffee), Destilería Coquí (pitorro rum), DH Foods, Inc. – La Mofonguería (pre-cooked "mofongos"), Destilería Cruz (pitorro rum), Dulzura Borincana (typical candy), Empresas Alemañy (coquito), Flavor Merchants (artisan fruit-based hot sauce), Loíza Dark (artisan dark chocolate Matosantos Commercial Corp. (meats, frozen fruits and cutlery), Metzgermeister & Research Corp. (sausage and goat cheese), Puerto Rico Coffee Roasters (coffee), Quesos Vaca Negra (artisan cheeses) and Round Triangle Foods (multi-grain chips).