1st university coffee tasting lab opens in UPR Utuado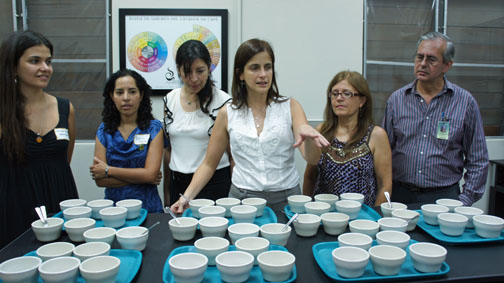 Specialty Coffee Institute of the Caribbean, the island's first university-run coffee tasting laboratory, was inaugurated Thursday at the University of Puerto Rico in Utuado, with the goal of fostering the development of high-quality coffee.
The $45,000 lab will initially be open only to UPR students and teachers, but will open to the public by next semester, sometime in August, school officials said.
"We want our coffee to be the best in the world. We hope to soon be certified by the Specialty Coffee Association of America as the first [lab] in a university and in the Caribbean," said Olgaly Ramos, co-director of the Specialty Coffee Institute. "Here our students, farmers and coffee lovers will have the opportunity to see how to develop and identify high-quality coffee. Our people, our grain and our lands have the ability to produce a premium product."
The lab will serve as a place for training and continuing education for farmers, students and the general public who want to develop high-quality coffee, conduct further investigation of the grain, drive adoption of Puerto Rican coffee, as well as teach the techniques needed to identify the best product.
Over the next two years, another $300,000 will be invested into the lab to revitalize the university's coffee plantation, aid in starting production of UPR-branded coffee expand academic offerings, and provide training to tasters, baristas and new professionals.
Ultimately, the Utuado campus plans to become the center of coffee education in Puerto Rico and throughout the Caribbean. Sources close to the school's administration have said they will continue allocating funds to turn the Specialty Coffee project into one of the main attractions in the area and of the UPR system.