2 plants announce expansions, $17.7M in combined investments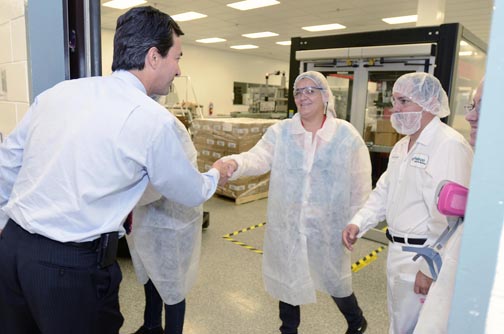 Governor Luis Fortuño participated Wednesday in a pair of plant expansion announcements that represent a combined $17.7 million in investments and the addition of more than 200 new jobs in Manatí and Ciales.
In Manatí, pharmaceutical company Patheon Inc. announced a $12 million investment to expand its local operation, adding 24 new jobs over the next 18 months, and committing to retaining its 460 current jobs.
"We've restored investor confidence by demonstrating that we're taking assertive steps to strengthen manufacturing in Puerto Rico," Fortuño said. "By maximizing production capacity, Pantheon is betting on our economic stability, our workforce and our commitment to continue to create a more attractive investment environment."
Patheon Inc. is a global provider of contract development and manufacturing services to the global pharmaceutical industry. The company provides products and services to approximately 300 of the world's leading pharmaceutical and biotechnology companies.
"Our mission is to support Pantheon's operations to ensure the creation and retention of their jobs," Economic Development and Commerce Secretary José Pérez-Riera said. "This new investment reflects this company's in our investment climate."
Meanwhile, in Ciales, local company Metzgermeister Research Corp. announced plans to invest $5.7 million of its own money to expand its operations, resulting in 189 new jobs. The company also secured a $2.5 million credit line from the Economic Development Bank that it will use as working capital, company officials announced.
The native company, which is dedicated to developing and selling value-added food products (meat cooked and vacuum packed, meatballs, ham, baked and others) has been successful in breaking into the local market and exporting to more than 15 countries, President Raúl Rivera said earlier this week.
"A year ago, we visited Metzgermeister to highlight the creation of 110 jobs at this company that is dedicated to the production and sale of value-added foods, many of which our children are enjoying in school lunchrooms," Fortuño said. "The expansion announced today is indicative of this company's success."
The investment announced Wednesday is intended to expand the manufacturing operation to add storage, refrigeration, processing, cooking, packaging and research in a building owned by the Puerto Rico Industrial Development Company.
Metzgermeister exports 65 percent of its products to more than 15 countries, serving retail and institutional markets. Its export markets include: the continental United States, Spain, Italy, Germany, Greece, Jordan, Iraq, Kuwait, Qatar, Dubai, Afghanistan, Korea and Japan. The company is the only one of its kind in Puerto Rico and the Caribbean that exports fully cooked meat products using local beef.