$45M Fairfield by Marriott Luquillo Beach opens in Puerto Rico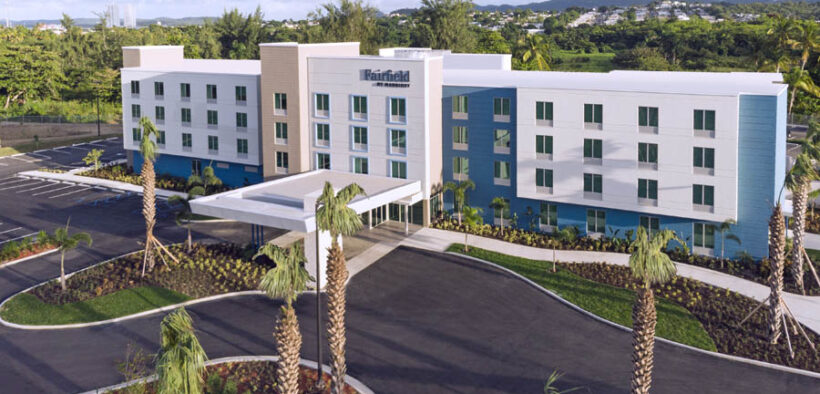 The socioeconomic development of Puerto Rico's eastern region recently got a boost with the opening of the $45 million Fairfield by Marriott Luquillo Beach & El Tropical Casino hotel in Luquillo. The new accommodation created more than 185 direct jobs and is the first Fairfield by Marriott hotel in the Caribbean.
Located across from the iconic Luquillo Beach in Playa la Fortuna and Luquillos famous food kiosks, the modern hotel and casino will foster the eastern coast's tourism. The 104-room hotel has a variety of facilities that support both Porta del Este and the newly designated gastronomic route, offering various amenities.
Federico Stubbe Jr., chief executive officer of PRISA Group, which developed the project, emphasized his company's commitment to supporting regional tourism as a driver of Puerto Rico's socioeconomic development. He cited other contributions such as the Hyatt Place Manatí and Hyatt Place Bayamón hotels, which have aided their respective areas' development by creating jobs and spurring economic growth.
Stubbe Jr. said: "This project is a huge bet on the region and its potential to become a world-class tourism destination. The people of Luquillo will offer visitors a unique experience and will take this destination to its next level of excellence. This hotel will attract those who are looking to be close to the beach, El Yunque, the bioluminescent bay, the Fajardo lighthouse reserve, the neighboring islands and all the tourist attractions that this region offers, leading to longer stays.
"This property, with accessible rates, will become a magnet that will attract to Luquillo all those who want a different experience, while enjoying the beautiful tropical attractions, the cuisine and entertainment that the area offers."
The executive noted that the hotel includes three suites and three junior suites, each with a king-sized bed and sofa bed. Additionally, the property offers five king rooms with views of the pool terrace.
"This project offers job opportunities primarily for residents of Luquillo and the surrounding areas, it will support small merchants in the area and in turn aid in the revitalization of its tourism industry," Stubbe Jr. added.
El Tropical Casino Luquillo occupies 17,500 square feet, with 9,000 square feet dedicated to gaming, featuring nearly 300 slot machines, six gaming tables and an electronic roulette wheel. Tropical Casino, a Puerto Rican brand, also operates three other casinos in Bayamón, Ponce and Mayagüez.
The hotel provides various amenities including complimentary daily breakfast, a 24/7 Corner Market offering healthy grab-and-go food and drink options, a gym and an H2O station that is open 24/7.
The facilities' ample and flexible meeting and event space can be adapted to various configurations. Additionally, the hotel features a resort-style pool with water fountains and a children's play area.
"Our hotel is designed to attract a diverse clientele," Stubbe Jr. said. "This includes those traveling for business, intimate group gatherings, families with members of different ages, groups celebrating social events as well as getaways with friends, and those combining business with leisure. We cater to travelers who want something more than a typical experience. Fairfield by Marriott Luquillo Beach & El Tropical Casino is for everyone who craves a sense of connection and comfort and wants to engage with local culture by immersing themselves in an adventure, exploring nature and seeking joy in their travels."
Luquillo Mayor Jesús Gerardo Márquez-Rodríguez acknowledged the hotel's importance to both his municipality and the island's eastern region, noting it represents progress in "the efforts that have been made" revitalizing the area's tourism sector.
"We are proud to see how the citizens of our municipality and of neighboring municipalities have seen in this project the opportunity to work, develop and contribute to the growth of the tourism industry in the region. In Luquillo, we are ready, with open arms, to welcome all the people who want to come to Fairfield by Marriott and enjoy the cuisine, our beautiful beaches and the natural resources that our region has to offer," Márquez-Rodríguez said.
Meanwhile, Ricardo Rivera, president of the Luquillo Kiosk Association, delved into the project's value.
"With this new hotel, located right in front of our kiosks, we see a unique opportunity to strengthen our businesses and the eastern gastronomic route," Rivera said. "We are confident that the hotel will attract many guests who will become our customers, thus supporting our growth."
For his part, Gov. Pedro Pierluisi stated: "We have supported the tourism industry with a historic investment of $120 million in improvements to our natural and entertainment attractions. Just as this new hotel will do, thousands of jobs have been created in this industry, to the point that today we have more people working in the tourism sector than ever before in our history. That is why today I celebrate with great emotion the success we are achieving in tourism and commit to continue working with you so that we continue breaking records."