ABRE Puerto Rico report shows 60% of towns have operated in the red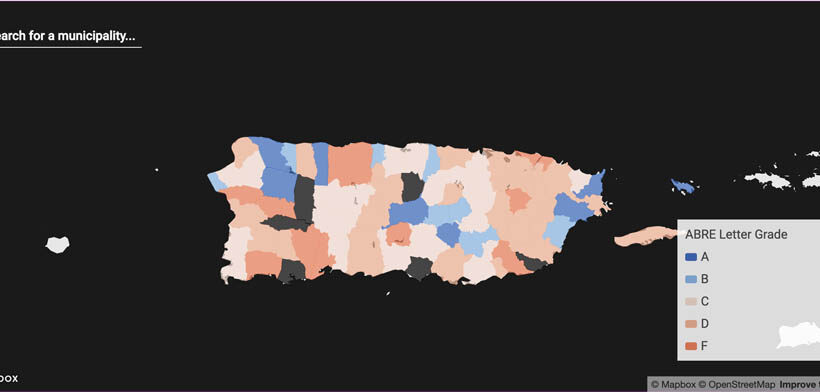 Nonprofit organization ABRE Puerto Rico released the seventh edition of its Municipal Fiscal Health Index, revealing that 60% of the island's municipalities have been operating with a deficit, according to the latest information available from the towns.
The findings of the report for findings for Fiscal 2020 also show that 54% of municipalities decreased their net assets during 2019, while 46% experienced a decrease in their general fund balance.
Six municipalities — Guánica, Lares, Maricao, Maunabo, Morovis and Santa Isabel — did not submit their financial reports and were not included in this edition. San Sebastián, Culebra and Aibonito were classified as the municipalities with the best fiscal health, while Añasco, Villalba and Guayanilla were classified as the worst.
The index relies on 13 indicators with information extracted from municipal audited financial statements.
"The index aims to raise awareness and serve as a tool for citizens to assess their municipality's finances and hold their mayors accountable," ABRE Puerto Rico stated.
Economist Kevin González, who is a member of ABRE Puerto Rico's board, said that, according to the latest study published in 2020, some 15 municipalities had improved their position compared to previous years, "and what this speaks of is that it's possible to improve. What one thinks about these fiscal issues is that they are generational, and arguments like 'They gave me a bankrupt municipality, there's no way,' and the reality is that they can make changes."
The most recent findings show that:
45% of the municipalities had an excess of expenses in their general fund (deficit).
27% of the municipalities decreased their net assets during 2019.
17% of the municipalities decreased their balance in their general fund.
37% of the municipalities have a negative balance in their general fund.
41% of the municipalities receive more than 40% of their income from the central government fund.
"Although we note that the percentage of municipalities with a negative balance in their general fund did not change during the last year, the truth is that, in general terms, the municipalities resorted to transfers from other government funds at the end of the year, particularly the debt service funds and capital projects to cover the shortfall," the report stated.
"The most harmful conduct for the fiscal health of a municipality is when it spends more than it receives. Generating more income than expenses is the first step toward good fiscal health," the report concluded.