Achieving energy efficiency doesn't have to break bank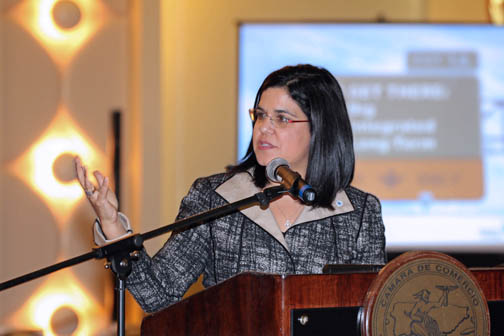 Lowering energy costs has become a number one priority for scores of businesses all over the world, and particularly in Puerto Rico, where their budgets take a serious hit every month when electricity bills arrive.
In taking stock of the situation, the first instinct has been to price out equipment like solar panels and make heavy investments in infrastructure to mitigate the monthly expense. However, there are other options that companies can consider when it comes to managing their energy costs that may result in quicker, less expensive solutions.
One example is engaging in energy savings performance contracts, which basically allow organizations with capital constraints to work with providers who offer low-risk financing options for energy efficiency projects that pay for themselves through the guaranteed savings they generate, said Jennifer Stentz, vice president of Energy Solutions Johnson Controls.
"In Puerto Rico, too much money is leaving your businesses and going to energy providers. The rate is approaching 30 cents/kWh, which is twice as high as average electricity costs in the U.S.," said Stentz, who participated in an energy and water forum sponsored by the Puerto Rico Chamber of Commerce Wednesday.
"International companies with locations in Puerto Rico spend 20 percent of their global energy budgets here. Too much money is leaving Puerto Rico, about $5.2 billion annually for petroleum and coal, all of which needs to be imported," she said to forum participants. "That's a lot of zeros, folks. Think about where those billions are going, and the effects of relying on uncertain supplies of oil and other energy resources."
Having said that, Stentz noted that energy efficiency must be part of the equation for businesses, which should include an energy efficiency contractor that "not only identifies and quantifies savings" but that can show that a return on investment is guaranteed.
"A typical commercial building has a potential energy savings of between 30 percent and 35 percent, although each project is unique," she said.
Trend is gaining traction
Johnson Controls has been doing business in Puerto Rico for nearly 30 years, but began working on energy efficiency projects about three years ago.
"Our main goal in Puerto Rico is to keep driving this type of effort across government agencies and the private sector as well," said Jorge Quintana, executive in charge of heading the local operation. "We want to help the local economy and industry and make Puerto Rico as competitive as possible.
Johnson Controls has implanted, or is working on, more than 2,500 performance contract projects with guaranteed savings of $7.5 billion across the U.S. mainland. In Puerto Rico, the company has worked on numerous projects, including Ft. Buchanan's aggressive energy saving overhaul.
"Ft. Buchanan is reducing its energy costs by $119 million over 19 years with renewable energy (solar, thermal and wind), building updates and water conversation," Stentz said. "They're in a unique position to take on these types of projects. By combining energy and water conservation they've been able to fund so much on their campus."
So far, Ft. Buchanan has been able to reduce its dependency on the Puerto Rico Electric Power Authority by 35 percent and from the Puerto Rico Aqueduct and Sewer Authority by 70 percent, Quintana said.
Every dollar saved through efficiency is doubled in the magnitude it represents, which is much greater in places like Puerto Rico, where efficiency can drive investment, the executives said.
"Ultimately, people need to know that energy performance contracting is a great tool to mitigate operational costs, and right now, we're looking to educate and get the word out about this option," Quintana said.
During the forum, Chamber of Commerce President Jorge Cañellas said solving high-energy costs is "one of the challenges we have to resolve if Puerto Rico wants to be competitive."