AGP lobbies Congress to act on P.R. fiscal crisis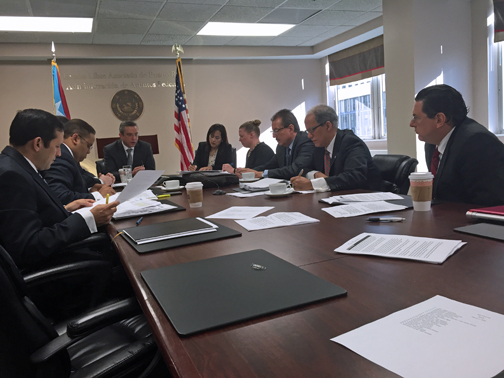 Two weeks ahead of U.S. House Speaker Paul Ryan's March 31st deadline to craft a responsible solution for Puerto Rico's fiscal and economic crisis, Gov. Alejandro García Padilla held daylong meetings Thursday on Capitol Hill with Congressional leaders to urge "swift action" in enacting the necessary legislation to address the island's crisis.
Specifically, the governor is advocating for the passage of legislation that provides the Commonwealth a broad restructuring framework. The delegation is also promoting parity for the island's distressed healthcare system and workforce incentives to bridge the wage disparity between Puerto Rico and stateside residents.
"My administration has spent the last months working with Congress, the federal government, and local officials to address the worst financial crisis in the history of the Commonwealth," said García-Padilla.
"This crisis has produced life threatening effects: we are working hard to effectively prepare for new and emerging threats like the Zika virus," he said, noting that the CDC estimates the virus will infect 20 percent of Puerto Ricans on the island by the end of 2016.
He said the Zika outbreak is a recent example of the worsening humanitarian crisis in Puerto Rico. Because of the fiscal and economic pressures the government is facing, it has not been able to give citizens more than $17 million in tax refunds of 2014 owed to them and has had to delay almost $2 billion in payments to vendors, for example those that supply gasoline to the police department, provide food to the prison system, provide special education services and clean hospitals and public schools.
García-Padilla traveled to Washington with a group of Cabinet members including Chief of Staff Grace Santana, Treasury Secretary Juan Zaragoza, Education Secretary Rafael Román, Office of Management and Budget Director Luis F. Cruz, Alberto Lázaro CEO of the Puerto Rico Aqueduct and Sewer Authority, and Antonio Medina, executive director of the Puerto Rico Industrial Development Company.