Agriculture brews plan to boost Puerto Rico coffee sector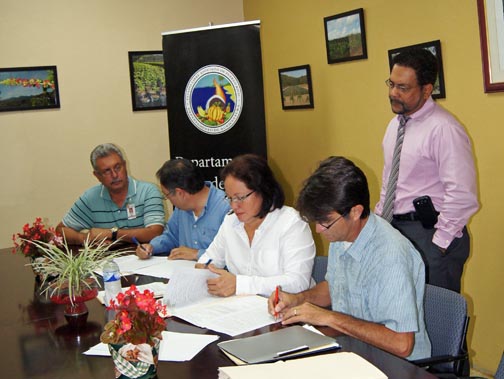 Looking to rescue Puerto Rico's dwindling coffee industry and increase production of the aromatic brew, Agriculture Secretary Myrna Comas-Pagán signed Wednesday several contracts to prompt the availability of 16 million coffee trees in the near future.
"By signing these contracts with 26 coffee tree growers, we expect to benefit about 4,000 farmers during the four-year period, and expect to generate about 90 new direct jobs at the nursery level and 2,500 at the farm level in the municipalities that make up the coffee zone," she said.
Puerto Rico's coffee production has taken a beating in recent years due to a lack of seeds and willing labor to harvest the fields. Once a key component to the island's economic wellbeing, coffee production has taken a backseat to other industries. Puerto Rico's coffee belt is concentrated basically in the towns of Lares, Yauco, Las Marías, Maricao, San Sebastián, Utuado and Adjuntas.
Aside from the 26 farmers who will be growing coffee trees, the Agriculture Department's Enseñat Farm and the Limaní Agricultural Experimental Station in Adjuntas will also join the effort to produce seeds.
"Faced with the problem that there was no availability of seeds and the production of coffee was only 88,687 quintals of coffee (about 9 million pounds) during the last harvest — about a third of the local consumption — we need to strengthen this industry. To achieve this, we must provide farmers the resources they need so the industry can bounce back to its rightful place," said Comas-Pagán.
The agency's Agricultural Business Development Administration will be promoting new coffee crops by offering an incentive for the acquisition of 1,000 trees per acre, said Gabriel Figueroa, administrator of that division.