Agriculture hit with $17.8M in hurricane-related damage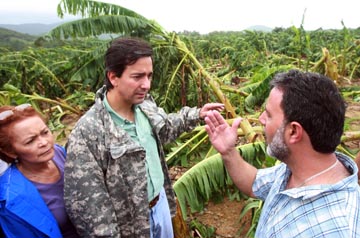 Hurricane Irene dealt a $17.8 million blow Puerto Rico's agriculture as it unleashed its strong wind and dumped inches of rains on the island since Sunday, ripping up or drowning acres of plantains and fruit and vegetable crops, government officials said Tuesday.
During an outing to affected towns Tuesday, Gov. Luis Fortuño and Agriculture Secretary Javier Rivera-Aquino assessed damage to farms in Maunabo and Yabucoa, where the storm destroyed about 80 percent and 60 percent of plantain crops, respectively.
Preliminarily, more than 1,150 acres of plantain crops representing some $14.4 million in losses and another 970 acres of fruit and vegetable crops representing about $3.4 million in losses were reported Tuesday.
Hurricane Irene dealt a double whammy to southeastern crops, which it either ripped out, root and all, with its sustained 70-mile-an-hour winds or drowned in inches of incessant rain.
However, both government officials said that tally could be significantly higher, as some of the most affected areas remained unreachable due to Irene's persistent rains.
Another $400,000 is being reported in infrastructure losses in farms in those two towns.
The central government sought, and obtained, an emergency declaration from the federal government to possibly shore up funds for affected farmers. However, there are approximately 3,500 insured farmers who may be eligible for crop coverage from the Agriculture Department's Farm Insurance Corp.
They have until Friday to submit their damage claims to the agency, which will then have a clearer picture of Irene-related losses.