Agriculture opens 2nd farmers' market in Ponce mall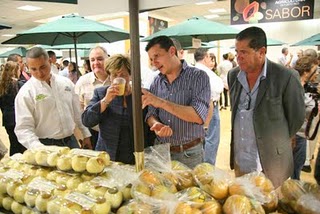 Ponce Mayor María Meléndez and Agriculture Secretary Javier Rivera
Aquino, center, tour the Plaza del Caribe farmers' market Saturday.
Some 25 farmers participating in the Agriculture Department-sponsored farmers' market in Plaza del Caribe in Ponce are expected to wrap up the weekend with between $35,000 and $40,000 in sales, organizers said.
The first-of-its-kind event to take place at the southern mall has drawn more than 2,000 people to the area off the food court where the farmers are selling more than 100 different local products.
"The success of this first edition of the market in Ponce proves there is sufficient demand for agriculture and that the public values and supports our products," Agriculture Secretary Javier Rivera Aquino said. "But it also confirms the importance of marketing and product presentation as a strategy to increase sales."
This is the second farmers' market that the Agriculture Department opens in collaboration with Empresas Fonalledas, which is donating the 1,000 square-foot space at Plaza del Caribe. The same type of market was established at Empresas Fonalleda's anchor property, Plaza las Américas in Hato Rey, late last year.
"We can not continue to expect the consumer to go to the farmers, instead we must bring to the farmer to where the consumer is," said Rivera Aquino, who toured the farmers' market on Saturday with Empresas Fonalledas President Jaime Fonalledas and Ponce Mayor María Meléndez. "We will continue training our farmers in vital areas such as marketing, finance, administration and other necessary fields to achieve consistency and quality of their products to ensure business continuity."
The farmers' market at Plaza del Caribe will open the second weekend of every month during regular mall hours. Local farmers will sell competitively priced fruits, vegetables, meat, eggs, coffee, flowers, ornamental and spice plants, and artisan products such as pastries, sauces, dressings, breads, fresh pasta and ice cream, among others.