Akari Foundation plans April 1 workshop in Puerto Rico on Duchenne muscular dystrophy
DALLAS, Texas — Duchenne muscular dystrophy (DMD), a rare neuromuscular disease that affects one in 3,500 male births, has no cure. Boys born with the illness generally need wheelchairs by their early teens and ventilators by their early 20s. They rarely survive to age 30.
Yet expensive new gene therapies for DMD are rapidly being developed by pharmaceutical firms including Sarepta, Pfizer and Solid Bioscience, with Sarepta likely to win Food and Drug Administration (FDA) approval for its investigational drug, known as SRP-9001, as early as May 29.
With that in mind, the Akari Foundation — a Texas-based nonprofit organization — plans to host an April 1 event in San Juan for Puerto Rican families living with the disease.
The workshop, conducted entirely in Spanish, will take place at the Hyatt Place San Juan, located at 580 Fernández Juncos Ave. in Miramar. It's co-sponsored by Sarepta, PTC Therapeutics, Horizon and NS Pharma.
"I'm not Puerto Rican, but the island is very dear to my heart," said the charity's founder, Luisa Leal. "Puerto Rico is like the forgotten child — part of the United States but Hispanic. And when I founded our organization in 2017, I realized there wasn't that much information in Spanish about this disease. That's why I decided to create this nonprofit."
In addition to Leal, speakers at the event will include local pediatricians Alexandra Montalvo, MD, and Edwardo Ramos, MD, both from the University of Puerto Rico; and Colombian pediatric neurologist Diana Castro, MD, who last week opened the nation's first CureDuchenne Clinic for Spanish-speaking families in the Dallas suburb of Denton.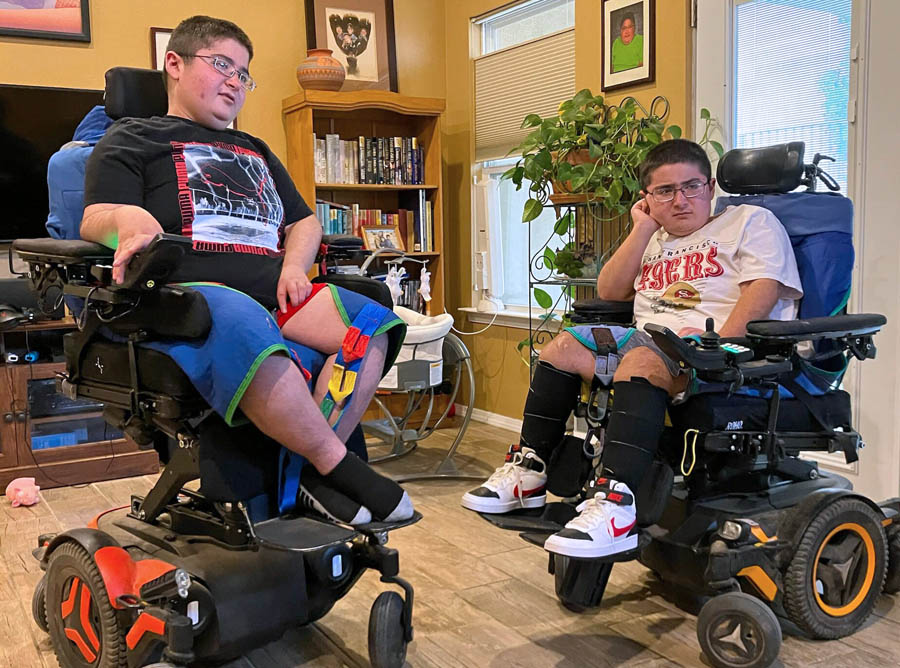 Internet filled with falsehoods about Duchenne
Leal knows firsthand about Duchenne. Her ex-partner is the father of two boys, Ariel and Enrique, with the disease. She spoke to News is my Business on the sidelines of the Muscular Dystrophy Association's 2023 Clinical & Scientific Conference, which took place March 19-22 in Dallas.
Originally from the Mexican border city of Nuevo Laredo, Leal started out simply translating every online scholarly article about DMD she could find into Spanish.
"Unfortunately, our people believe everything they hear," she said. "I'm part of at least 40 parent groups on Facebook, and the information out there is terrible. Everything they post or repost is something they believe. So, for me, it was very important to educate them."
Examples of misinformation, Leal said, include the false belief that a certain type of herbal tea will allow a boy with Duchenne to walk again. A self-proclaimed nurse promotes therapy with magnets. And an unscrupulous doctor from Central America claims that giving DMD boys stem cells will help them regain muscle and be able to throw away their wheelchairs.
The Akari Foundation — named after Leal's daughter — raised $110,000 last year. The group now runs Spanish-language webinars for doctors and assists Spanish-speaking families of Duchenne patients remotely with answers to questions about the disease.
On June 10, the nonprofit organization CureDuchenne will host its own full-day workshop on the disease at an as-yet undetermined location. The event will encompass multiple areas of care with guest speakers, including an interactive "Open House" featuring a variety of local resources.
DMD drug could be world's most expensive medication
Barry J. Byrne, MD, PhD, is the director of the Powell Gene Therapy Center at the University of Florida in Gainesville. He has conducted extensive research on Duchenne, which is a genetic disorder caused by a mutation that inhibits the body from producing enough dystrophin, a protein necessary for proper muscle function.
Byrne, who's also the MDA's chief medical adviser, predicts Sarepta's SRP-9001 will cost at least $3.5 million — making it far more expensive than the $2.1 million drug onasemnogene abeparvovec-xioi (Zolgensma), marketed by Novartis for spinal muscular atrophy (SMA).
"You have to consider the total cost to the ecosystem of providers. There are 10 times as many Duchenne patients as SMA patients," Byrne said. "In 2.5 years, some 2,500 doses of Zolgensma have been administered worldwide, probably 1,800 in the U.S. alone. But the incident population of Duchenne patients eligible in the U.S. is between 2,000 and 4,000 children. From day 1, they'll be seeking to receive treatment."
Castro said she doubts the new Sarepta gene therapy will retail for less than $4 million — nearly double the Novartis drug for SMA — if and when it wins FDA approval in May.
Yet cost isn't the only obstacle, she said.
"About 14% of Duchenne patients will likely be positive for antibodies and therefore not eligible for the Sarepta gene therapy," she said. "If they approve it for 4- to 7-year-olds, many of the boys I treat will have a chance. And even if they do, insurance will not allow us to start administering it until the end of this year."
The 'gold standard' of gene therapy
At the MDA conference, Peter Marks, MD, PhD, director of the FDA's Center for Biologics Evaluation and Research (CBER), gave the on "Realizing the Promise of Gene Therapy."
"We don't have all the answers at FDA. We're trying to get there and we're going to make mistakes along the way," he told nearly 1,500 in-person participants and another 555 watching online. "But we understand that rare disorders are incredibly important in the area of gene therapy, because together, these diseases affect millions upon millions of people in the United States alone."
"There are disadvantages to gene therapy, for one the complexity and cost of manufacturing, which is not something to sneeze at," Marks said without specifically elaborating on Sarepta's application. "There might be irreversible side effects. You might not be able to give the gene therapy again because there's immunity. There's also a need for special expertise to administer these and do it well. If not, bad outcomes are possible."
In addition, he said, gene therapy presents the many challenges of a new business model.
"The pharma industry is used to 'pay as you go.' You get your prescription refilled every 30 days, but when you give someone a therapy once and they don't need it again — if you've done your job well and your therapy is curative — then once you've taken care of the patients with that disease now, on a yearly basis your market will be smaller."
Dr. Marks said the Novartis drug Zolgensma for SMA is the gold standard when it comes to gene therapy.
"This has proven to be what gene therapy looks like when things go really well," he said. "We still don't know the long-term benefits, but this is very promising. It's really transformative."