American Airlines unveils new Miami airport FIS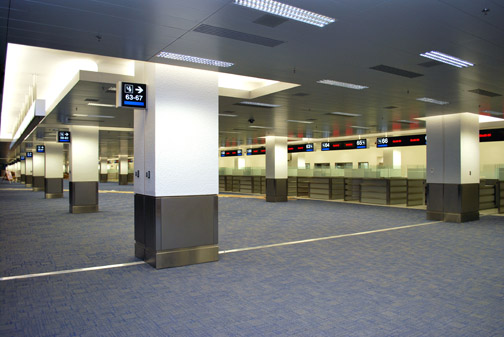 American Airlines customers arriving at Miami International Airport from international destinations are enjoying the benefits of a new, state-of-the-art Federal Inspection Service facility, which opened Monday at the busy hub.
The three-level, 400,000-square-foot international arrivals facility located in American's Terminal D is twice the size of the previously-used facility and is easily accessible to arriving passengers though the Terminal D skytrain.
The new facility has 72 passport control lanes that can process 2,000 passengers per hour. There are also six dedicated lanes for members of the Global Entry program, which provides expedited processing for travelers who have registered with U.S. Customs and Border Protection. During peak times, the new facility is expected to cut wait times by an average of 15 minutes.
Once processed, passengers collect their checked bags in a spacious new baggage claim area on the second level.  Passengers can exit the facility either on the second level for connecting flights, or on the first level for the greeter's lobby and airport exit.
The Miami International Airport is a frequent connection for Puerto Rico passengers moving to and from destinations outside the U.S.
"We are very pleased with the opening of the new arrivals facility which, we know will improve the travel experience for our international customers at MIA," said Marilyn DeVoe, American's vice president, Miami.
"American's international traffic at MIA has been steadily increasing through the years, and we expect this trend to continue as we grow our operations in Miami.  The new facility is good news for our customers," she said.
In 2011, American served approximately 5 million customers who traveled from international destinations to or through Miami. That number is expected to grow in 2012 with American's addition of international destinations and frequencies.  American serves more than 65 international destinations from Miami.
This year, the airline added service to two international destinations: Barcelona, Spain and Manaus, Brazil, and has announced plans to begin flying between Miami and Asunción, Paraguay in November.