Plaza Las Américas, MasterCard launch biz competition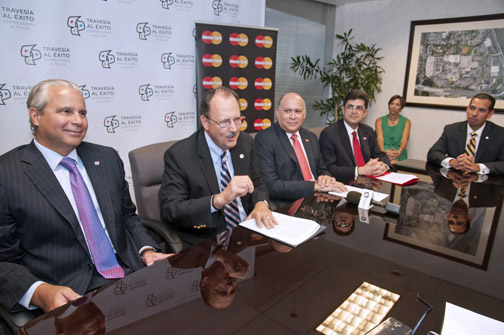 Looking to give the island's economic activity a much-needed push through entrepreneurship, Plaza Las Américas is joining forces with MasterCard, the Puerto Rico Economic Development Bank, and the Puerto Rico Trade and Export Company to launch the "Journey to Business Success" competition for business development.
The initiative seeks to provide a new or starting retail company the opportunity to accelerate the growth of their business through a platform of benefits and incentives. Proposals will be accepted from Sept. 15 to Oct. 17, representatives said during a news conference Thursday.
"This initiative is designed to support and encourage the establishment of new businesses in Puerto Rico. Many Puerto Ricans have the potential and ideas to develop businesses, but they may not have the knowledge or the initial capital to do it," said Jaime Fonalledas, president of Plaza Las Américas.
"This program is presented as a unique opportunity to drive success into the journey that is starting a business," he added.
Plaza Las Américas will offer the winner the opportunity to establish their business through the mall's freestanding carts program, known as "Carretas de Plaza," free of charge for six months.
In addition, the winner will receive a MasterCard debit card from Oriental Bank worth $10,000 for business expenses.
"For us at MasterCard it's an honor to contribute to this 'priceless' initiative to boost business success in Puerto Rico," said Manuel Catedral, general manager for MasterCard Puerto Rico.
"It's a reflection of our ongoing commitment to promote economic activity and to our local cardholders through innovative platforms such as this, which allows them to take their business ideas and translate them into a priceless opportunity," he added.
Furthermore, competition participants and finalists will get the chance to attend financial education workshops provided by MasterCard and orientation sessions offered by Puerto Rico Trade and Export. The winner will also have the opportunity to apply for incentives available through the agency.
Meanwhile, the Economic Development Bank will help the winner identify other sources of support and financing options and is offering up to $1,000 as a credit to be applied to closing costs at the EDB.
For more information and to find out how to submit a proposal, visit www.plazalasamericas.com or the mall's information center.