Plaza Las Américas Sizzler reopens after $1.5M revamp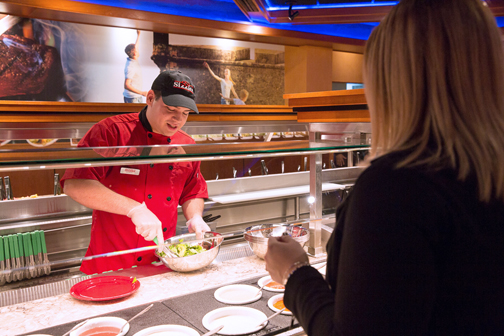 Following a $1.5 million make over, the Sizzler casual dining restaurant located at Plaza Las Américas will reopen today, Carlos Trigo, president of Multisystems Restaurant confirmed Thursday.
The new modern, yet cozy, space has been operating at the Hato Rey mall for 25 years. It now joins other Sizzler restaurants islandwide with its broader menu and larger buffet assortment.
The remodeled restaurant now spans 7,000 square-feet and sits 254 guests. The larger restaurant created 40 additional jobs, bumping the payroll to 110 people, Trigo said.
"We are delighted with the revamping of this restaurant, which is one of the most visited in Puerto Rico," said Trigo.
"With a larger, innovative space that keeps the charm of being a familiar and welcoming place, we are raising the level of the Sizzler experience at Plaza Las Américas," Trigo said.
"We have renewed the atmosphere, the buffet bar area, and now there is much more space and more staff, to always provide the best possible service to our customers," the executive said, adding the new salad bar now has a mixing station that will be overseen by an employee so that after the customer builds their salad, they can top it with additional ingredients, such as fresh avocado.
The salad chef will mix the salad, for a more personalized service.
"This is the only Sizzler on the island with this style of salad bar," Trigo said. "We're the only restaurant that offers quality, freshness and innovation at a very affordable price in one of the most visited shopping centers on the island."