Arcos Dorados starts construction of 96th McDonald's in Puerto Rico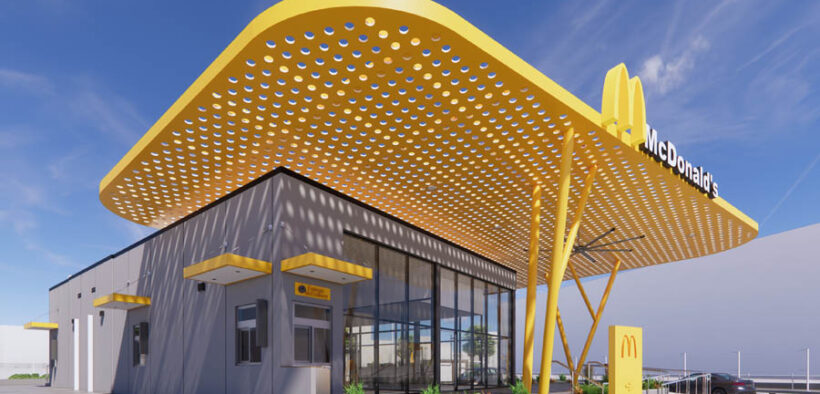 Arcos Dorados, the company that operates McDonald's fast-food restaurants in Puerto Rico, has announced the construction of a new McDonald's restaurant on González Giusti Avenue near San Patricio Plaza in Guaynabo. The project will generate more than 175 direct and indirect jobs. The new establishment spans approximately 27,000 square feet, with around $30 million being invested through 2024 for both construction and renovations.
Designated as the flagship restaurant for the brand in Puerto Rico due to its distinctive architectural design and pioneering features, the restaurant will emphasize environmental sustainability, inclusion, technology and innovation.
This will be the first McDonald's on the island to incorporate more than 25 sustainability initiatives outlined by Arcos Dorados for restaurant openings and renovations, along with innovative projects to offer a unique experience for its diners.
"The opening of our iconic restaurant is a milestone for the McDonald's brand in the 56 years we have been on the island and demonstrates how Arcos Dorados continues to be committed to its expansion in Puerto Rico through continuous innovation, job and opportunity development, and contributions to the environment and communities," said Vincent Lamazou, managing director of Arcos Dorados in Puerto Rico and the U.S. Virgin Islands. "This new concept reflects the positioning of our socio-environmental strategy as the foundation of our growth in Puerto Rico and our commitment to creating inclusive, innovative and accessible spaces for the entire community."
The new restaurant will feature a unique facade and a different interior decoration, aimed at providing optimal accessibility for all customers. In addition to having a spacious outdoor terrace, amenities include bicycle racks and a Playland for children and families.
The restaurant will introduce an optimized AutoMac model featuring a double lane, three windows and broader lanes for improved customer service. Interactive digital kiosks; separate access for McDelivery, order and pickup service; tableside delivery; and digital screens on its exterior are among the restaurant's other highlights.
The construction is part of Arcos Dorados' new generation of sustainable restaurants, which incorporate energy and water conservation initiatives, and support circular economy practices, all contributing to a 36% carbon footprint reduction goal by 2030. Some of these initiatives include the reuse of rainwater and condensation for maintenance, oil and cardboard recycling, waste sorting in the main area, and energy-saving technologies.
Moreover, the San Patricio McDonald's will incorporate additional features focused on the use of solar energy for operations and customers, while also undertaking projects to decrease single-use plastics — representing innovative measures for the island's fast-food sector.
This new establishment is part of the company's long-term expansion plan in Puerto Rico, focused on Arcos Dorados' core commitments: creating jobs, providing training and development resources, promoting diversity and inclusivity, and leading proactive solutions to address environmental concerns.
With the inauguration of McDonald's San Patricio, Puerto Rico joins Brazil, Colombia, Mexico and Argentina as the fifth of 20 countries in which Arcos Dorados has introduced a flagship store.