Aromas, flavors to mix at 'Chocolate & Coffee Expo'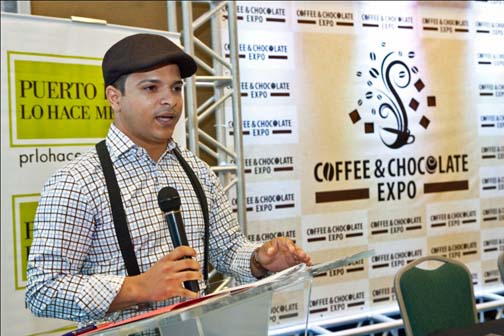 The flavors and aromas of coffee and chocolate will waft through the Puerto Rico Convention Center Sept. 22-23 during the Coffee & Chocolate Expo, an event that has attracted more than 40,000 visitors in the past two years, becoming the largest exhibition in the Caribbean for the industries and their complementary products.
"Coffee is part of our culture, our tradition. In Puerto Rico we have excellent companies and premium coffee is harvested. Similarly, Puerto Ricans have developed a taste for chocolate, however, few know that our island also boasts a cocoa industry with enormous potential," said Pedro Fernández-Jerez, partner of CUBE Group Events, the company organizing the expo that will be open from 9 a.m. to 6 p.m. both days.
"There are many opportunities to market and advertise new brands and products. With this in mind, this year we have added the chocolate component to the coffee as protagonists of the event, in what we call 'a coming together of aroma and flavor'," he said.
The event will consist of more than 100 exhibitors and pavilions, as well as workshops, conferences, cooking demos and barista and bartender exhibitions.
"We want to continue offering the public an event that they can enjoy with the whole family in what has become an experience for coffee lovers, and now for chocolate lovers," he said.
"The experience we had in the last two years has been excellent and thanks to the support of our sponsors, last year as part of the commemoration of the 275th anniversary of the coffee industry, we established the Guinness record for the largest cup of coffee in the world, which will be on display during the event," the young entrepreneur said.
The Guiness Book of World Records certificate will be on display along with the mammoth cup during the month of September, for the local public and visitors to see.