ARTBA names Abertis USA President Graells 'Private Sector Entrepreneur of the Year'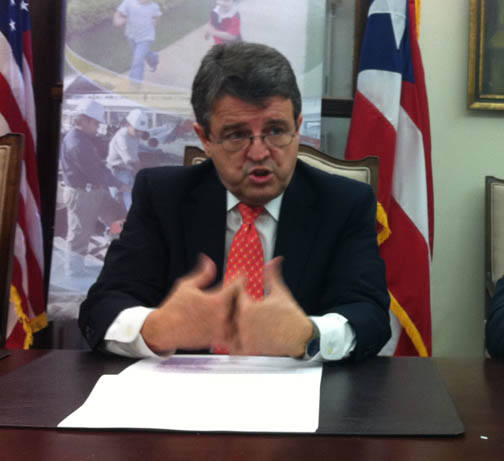 The American Road and Transportation Builders Association, an organization based in Washington representing 5,000 members in the transportation industry, named Abertis' Jordi Graells, "Private Sector Entrepreneur of the Year" for the group's public private partnership division.
Prior to being named president of Abertis USA, Graells played a key role in closing the $1.4 billion, 40-year PPP concession of the PR-22/PR5 highways this summer.
The deal, which also won ARTBA's "Project of the Year," award was the largest such investment in the U.S. this year and the first brownfield PPP deal since the Indiana Toll Road in 2006.  It is widely anticipated this deal will serve as a catalyst for expansion in the U.S. PPP market, the ARTBA said in a statement issued Tuesday.
"I am deeply honored, grateful, and encouraged by this prestigious award.  We are excited about prospects in the U.S. market and pleased that Puerto Rico delivered on their slogan, 'Puerto Rico Does It Better,' with the PR22/PR5 deal," Graells said.
The ceremony took place at ARTBA's 23rd annual PPP Conference at the Mayflower Hotel in Washington, D.C.
The conference featured more than 50 public officials and 300 transportation executives and focused on PPP deal flow and best practices in markets across the United States.
"I look forward to working with ARTBA to advance the PPP market in the U.S. so that states can accelerate job creation and deliver on much-needed infrastructure improvements," said Graells, who will also be serving as president of the International Bridge, Tunnel, and Turnpike Association in 2012.
Abertis has participated in every major PPP deal opened in the U.S. and its territories over the past six years and was selected earlier this year in partnership with Goldman Sachs Infrastructure Group to manage Puerto Rico's PR-22 and PR-5 toll roads through a 40-year lease valued at $1.4 billion. This is the largest such investment in any U.S. jurisdiction so far this year and compliments the company's concession for Teodoro Moscoso Toll Bridge.