Gov't assigns $25M to retain, create jobs for youth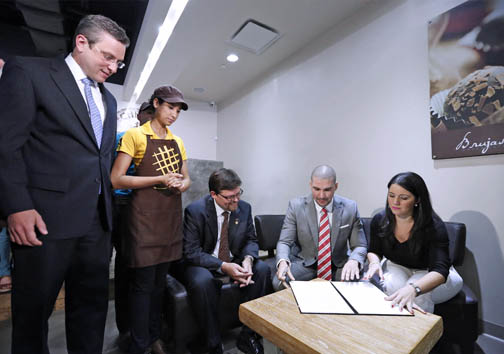 The Workforce Development Administration and the Office of Youth Affairs announced Wednesday a joint initiative that will provide $25 million to create and retain jobs for employees between 18 and 29 years old. The Puerto Rico Workforce Investment Act's Youth Program, which contributes half of the salary to participating employers, will spur the retention of 1,384 jobs, government officials said.
To qualify, applicants should be working in an industry related to their studies, have completed their degree or be in their final semester, and submit an employer evaluation of satisfactory performance. The employer commits to keeping the employee in exchange for the salary incentive.
"Through this agreement, we're not only offering the first job experience to these young people, but we are guaranteeing their permanence in these jobs," said Office of Youth Affairs Executive Director Gabriel López, noting the agency's priority is to urgently address the job needs of young people and also support employers committed to keeping that crowd in their jobs.
Meanwhile, Sally López-Martínez, administrator of the Workforce Development Administration, said "we affirm our commitment to the successful career development of our youth and we will be providing tools and opportunities for these young people to contribute their knowledge and talent to Puerto Rico's economic development."
On Wednesday morning, Gov. García-Padilla offered details of 42 jobs created through the initiative, at the Waffler Avenue restaurant in the San Patricio sector in Guaynabo. The new concept opened in November, as this media outlet reported.
The first two restaurants — a second location opened in Condado — will generate more than 50 jobs combined. A third store is in the works, as are expansion plans into the U.S. mainland, concept creator and Puerto Rican entrepreneur, Rey Ramón, said.
"This government refuses to be a passive spectator of the island's economic and social deterioration. This is a government that puts people before ideology," the governor said. "That's why we are rewarding Rey Ramón's audacity to believe in his business plan and in Puerto Rico."
Employers interested in participating in the youth hiring program and/or learn about Workforce Investment Act benefits are encouraged to call 787-754-5504, visit www.adl.pr.gov, or send an email to empleosadl@adl.pr.gov. Furthermore, youth seeking jobs through the initiative may call 3-1-1- for more information.