Madre Tierra Atabey, FirstBank alliance wraps 1st phase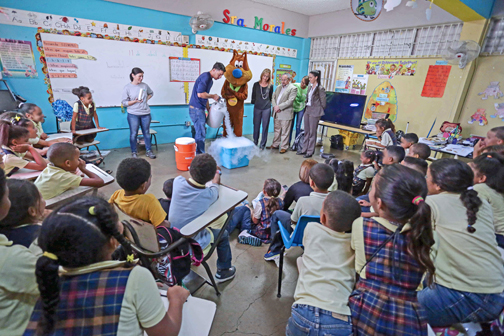 Based on the premise that the residents of Puerto Rico contribute to environmental problems at a higher rate than those of other countries, more than 600 public elementary school students from 11 municipalities participated in the "Reto al cerebro" ("Brain Challenge") program.
An educational alliance between Madre Tierra Atabey and FirstBank, the program's goal is to promote environmental education through the use of the scientific method and different experiments.
"We validate the data about our environmental issues when we look at a nighttime satellite photograph of Puerto Rico and compare it to one of Mexico. Ours is brighter," said Madre Tierra Atabey President Emmanuel Vázquez.
"At the same time, our vehicle pollution is greater, since we have more cars per capita than any state in the U.S. Both contamination sources stem from our daily consumption," he said.
Through 160 hours of workshops, the partnership managed to broaden the knowledge among science students, teachers, and parents about the impact of pollution and how caring for and preserving the environment are part of the solution and help create a pro-environment culture with ecofriendly practices.
"We emphasized the importance of conserving energy and water, which allows us to reduce environmental impact and facilitates its conservation while also helping to improve people's economic situation. It is important to recognize that we are part of the problem as well as the solution," said Vázquez.
"We're very pleased with the results of 'Reto al Cerebro.' The program serves as a vehicle for the message we at FirstBank hope to disseminate," said Catherine Ríos, community reinvestment officer at Firstbank. "Public school science students learned about the importance of conservation and its relationship to the economy."
The workshops took place in Ponce, Yauco, Mayagüez, Arecibo, San Juan, Carolina, Caguas, Fajardo, Manatí, Guayama, and San Sebastián.