AT&T donates $100K to P.E.C.E.S for alternative schooling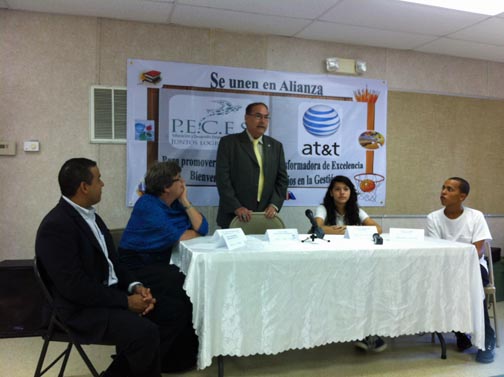 AT&T de Puerto Rico recently donated $100,000 to the Community Education Delivery and Service Program (known as P.E.C.E.S. Inc. for its initials in Spanish) to help strengthen social and educational services offered through its accredited alternative school.
"AT&T's commitment to the education of our young people will make it possible to carry out projects of great importance to our school, as is the protocol for handling substance abuse and violent situations that affect students," said Sister Nancy Madden, who founded the nonprofit.
"This protocol will facilitate the work of our counselors, teachers and social workers in the personal development of young people. AT&T will also help us implement technological systems to measure academic progress and conduct case management during the project's educational phase," she said.
The P.E.C.E.S. educational model addresses the psychosocial needs of young people who have dropped out of traditional schools, while allowing them to get high school diploma. AT&T's contribution is key to support the services that sets this model apart from traditional schools.
"We're proud to be part of an educational and community transformation project that has proven its solidity and performance," said Ray Flores, regional vice president of AT&T Puerto Rico and the U.S. Virgin Islands, who handed over the check during an event held at the school in Humacao.
"Our contribution will strengthen and measure their academic and psychosocial protocols and improve services received by students with technology and more staff," he added.