Metro Pavia, Auxilio Mutuo tend to hurricane victims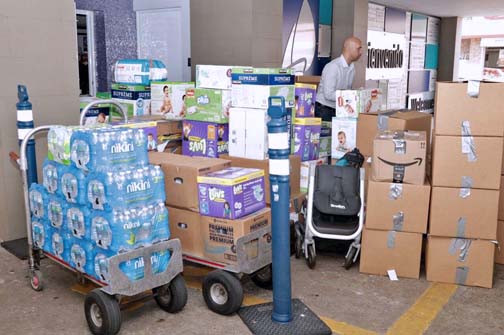 The Metro Pavia Health System and the Auxilio Mutuo Hospital are pitching in to Puerto Rico's Hurricane Irma relief efforts by opening collection centers and offering healthcare services to those injured by the storm locally, as well as in the neighboring islands.
In separate announcements, the hospitals confirmed they have received patients from St. Thomas, St. Martin, St. John and other Caribbean islands pounded by Hurricane Irma last week. The Category 5 storm left a trail of devastation throughout the Lesser Antilles, as well as Puerto Rico's island municipalities of Vieques and Culebra.
In a show of solidarity, Metro Pavía has established 12 collection centers in different strategic points throughout Puerto Rico, to receive items such as: canned foods, over-the-counter medicines that do not need to be refrigerated, clothes, shoes, batteries, water, candles, canned juices, toiletries, pillows, rope awnings, mosquito repellent, tissues, sunscreen, and educational materials, among others.
"We are deeply saddened by the hurricane damage to our residents of the Culebra and Vieques and neighboring residents of the USVI. These communities need Puerto Rico," said Karen Z. Artau, president of Metro Pavia Health System.
The hospital system is waiting on the arrival of more patients from the affected zones, she said.
"We have maintained communication with the medical directors of the different hospitals of the islands and their Command Centers to be able to meet the needs of the patients," she said.
"Given the prevailing need for health services, we are coordinating a group of doctors and professionals available to travel with us to provide services to the affected population," Artau said.
"It's our priority that all patients receive the best medical care and we're attending to the clinical and physical needs of the patient and their families," she added.
The Metro Pavia Health System's 11 affiliated hospitals, as well as the Medical Tourism office at the Pavia Hospital in Santurce are accepting donations.
Meanwhile, the Auxilio Mutuo hospital confirmed Thursday it has received and tended to a dozen patients from neighboring islands, who had diverse needs.
"We have received patients through the protocol that the government of Puerto Rico triggered to distribute patients in various hospitals, as well as direct admissions. All patients have been treated by focusing not only on their medical needs but also their social needs," said Jorge L. Matta, Auxilio Mutuo Hospital administrator.
The organization has received patients from the islands of St. Thomas, St. Maarten and Tortola. Some of the patients have been discharged, while others remain hospitalized. The organization expects to receive more patients in the coming days, he said.
"We are ready to receive cases in a coordinated manner so that we remain in constant communication with the islands, " he added.
The Hato Rey hospital also launched an initiative bringing together employees to voluntarily collect donations.