Ballester goes solar with Yarotek, REC Solar grid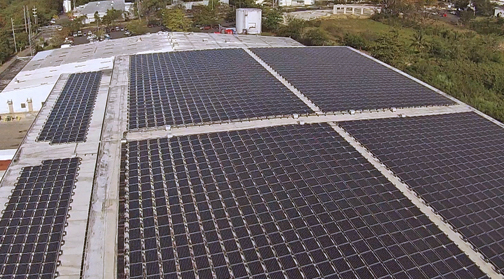 Puerto Rican food distributor Ballester Hermanos is looking to slash electricity costs with solar electric system through a partnership with Yarotek, a Miami-based solar developer and independent power producer, and solar and energy solutions provider REC Solar, on an 874 kilowatt rooftop solar system.
The roof-mounted array will reduce electricity costs for the distribution warehouse, starting with projected savings of more than $100,000 in 2015 and up to $200,000 per year by 2040.
Partnering with REC Solar for the installation, operation and maintenance of the system, Yarotek provided a solar power purchase agreement to Ballester Hermanos Inc. that will enable the distributor to save more than 40 percent on its electric bill with no upfront cost.
Over the 25-year financing agreement, the solar installation is expected to save Ballester Hermanos millions of dollars, the company said.
The photovoltaic system, one of Puerto Rico's largest commercial rooftop projects to date, comprises more than 2,500 efficient SunPower photovoltaic modules. The system was awarded a rebate from Puerto Rico Green Energy, and also qualifies for U.S. federal tax credits.
"We're always looking for ways to be socially responsible, reduce our operating expenses and increase profits, but previously thought that solar was out of reach," said Alejandro Ballester, president of Ballester Hermanos.
"When we learned that a power purchase agreement would deliver savings of more than $100,000 per year with no upfront costs, going solar became a no-brainer," he said.
"Businesses in Puerto Rico face much higher electricity rates than those in the rest of the United States," said Ben Collinwood, director of national accounts for REC Solar. "REC Solar specializes in making solar energy affordable for businesses like Ballester Hermanos by offering end-to-end service that dramatically reduces monthly costs."
With hurricane season bringing heavy rains and winds of up to 150 mph in Puerto Rico, solar providers must design and construct systems to withstand severe weather conditions, REC Solar said, adding its team of engineers and installers conducted comprehensive site assessments to ensure the warehouse roof and racking solution met the island's strict building codes.
"We're very excited and proud of our Ballester Hermanos facility. Initially, Yarotek targeted almost exclusively the utility-scale clean-tech segment. Today, by harvesting the abundant solar resource, Yarotek has become a proven partner in the development and financing of distributed generation solar projects in the U.S. and the Caribbean," said Samy Esayag, CEO of Yarotek.