Banco Popular hosting 8th annual 5K race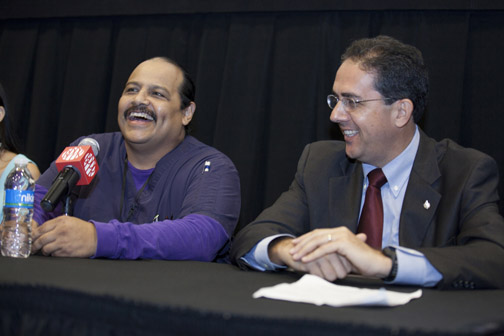 Banco Popular offered details Thursday of the eight edition of its 5K "Corre un País" race, which just like it did last year, will benefit nonprofit organization Iniciativa Comunitaria and its "Brega Bien" outreach program.
The race will take place Aug. 26 and organizers said they expect to exceed last year's 3,000 participants.
"We have a commitment to the people of Puerto Rico, especially the education of our youth, who are our future," said Eduardo Negrón, executive vice president of Popular's management group. "Since we started this race, almost ten years ago, several nonprofit organizations have benefited from the revenue we collect through registration. We're proud to again support the 'Brega Bien' program that helps young people get ahead."
Iniciativa Comunitaria's "Brega Bien" program works with youth between the ages of 13 to 24 by providing tools to reduce outbursts of violence and aggression among adolescents, as well as share knowledge related to HIV/AIDS, STDs and drug use, with the goal of changing their quality of life, boosting dropout prevention and offering alternatives to improve their life.
"We're grateful to Popular for choosing us again to be the beneficiaries of this event," Iniciativa Comunitaria Director José Vargas-Vidot said. "Their contribution to this program allows many young people to see real alternatives to develop their ideas and see the opportunities beyond those offered at drug point or through consuming them to escape their surroundings."
The race will award cash and other prizes to winners in both the women's and men's divisions, organizers said. The $20 registration fee includes a t-shirt and participation medal. For more information about the event, visit www.5k.popular.com