Banco Santander nabs SBA platinum award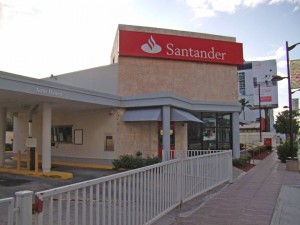 For the first time in its career as an SBA lender, Santander Puerto Rico reached the top spot for lending to small and mid-sized businesses in Puerto Rico. In recent years, the financial institution ranked second, equivalent to the Gold Award, Santander officials said.
During the SBA's 2010 fiscal, Santander approved 89 loans worth more than $4.2 million under the agency's 7A program to help small and medium sized businesses on the island to expand their operations. For Santander, this represents an increase of 85 percent in units and 30 percent in volume when compared with fiscal year 2009
"Beyond the increase in the amount of loans and the amount lent, the opportunity to join this group of small and medium entrepreneurs on the island on the path of strengthening and growing their businesses, is of great satisfaction for us," said Javier Hidalgo, president of Santander Puerto Rico. "In Santander, we remain firm in our commitment to contributing to strengthening the local economy by helping entrepreneurial projects of all kinds take their business to the next level"
As an SBA lender, Santander in conjunction with other agencies and participating banks helped the federal agency to provide more than $72 million in loans to small businesses in Puerto Rico during fiscal 2010. This number represents a 49 percent increase for the agency, compared with the previous fiscal year.
Santander received its award in early May, during the SBA's annual Small Business Week celebration.