Air Master Awning expands in Barceloneta through $6.5M investment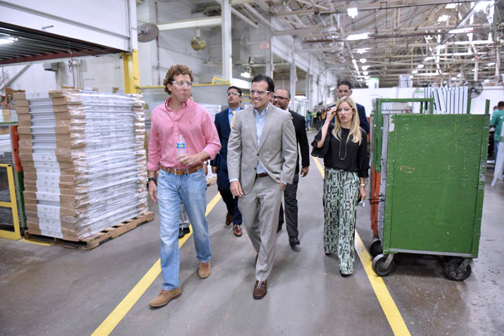 Air Master Awning, LLC announced an investment of some $6.5 million to expand its facilities in Barceloneta and create 550 additional jobs over three years.
The Puerto Rican company founded in 1974 and known commercially as Air Master Windows and Doors, is a leader in the manufacture, distribution, sale and installation of aluminum windows and doors for both residential and commercial projects.
"This time, we not only announce the expansion of a company that has bet on investing on the island, but we also witness that there are Puerto Rican companies that continue to see growth opportunities," said Gov. Ricardo Rosselló, who was on hand for the announcement.
The expansion is part of the company's plans to export products to Florida and other United States jurisdictions, as well as countries in the Caribbean, Central and South America.
"We thank the government of Puerto Rico for its support and cooperation during this stage of rapid expansion," said Nico Megwinoff, president of Air Master Awning, LLC.
"For more than 40 years, our company has believed in the talent and virtues of the Puerto Rican worker and Puerto Rico," he added,
The company will double its workforce to 1,000 from its current 450 by making a significant investment in technology, Research & Development, manufacturing capacity and new points of sale in Puerto Rico, Dominican Republic and Florida, Megwinoff said.
"Our vision is to expand into new and existing markets, designing and manufacturing aluminum and glass solutions that protect lives and property," he said.
The Air Master manufacturing plant in Barceloneta is the largest in the Caribbean and is among the 100 largest in the United States. The facilities have advanced equipment to manufacture high-quality products that result in strong, easy to operate and durable systems, government officials said.
The company has distinguished itself for being the only one in Puerto Rico and the Caribbean whose products have obtained a certification for impact resistance and high winds for doors and windows installed in Miami Dade County, the jurisdiction with the most stringent building codes in the U.S. mainland.