Bayer Crop Science's 'Grow and Learn' Program' ends 2nd collab with Vimenti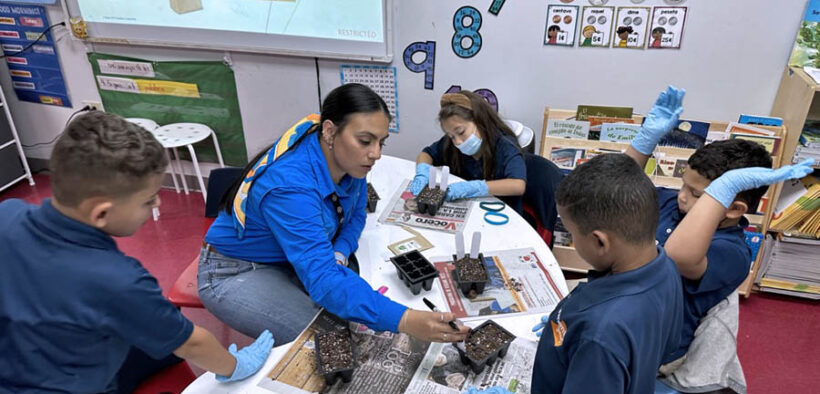 Agricultural company Bayer Crop Science Puerto Rico has concluded its second collaboration with Vimenti by Boys & Girls Clubs of Puerto Rico through its "Grow and Learn" ("Crece y aprende") educational outreach program.
The recent workshop welcomed 59 Vimenti School students and 20 afterschool program participants in its most recent visit to the school, which took place in February and March. This was the fourth workshop that Bayer Crop Science has offered this year, the company confirmed.
"Ever since we implemented the 'Grow and Learn' program, we have received feedback from a growing number of communities and organizations asking us to bring this initiative to them. We are delighted to return to Vimenti because we can see how much this community appreciates the knowledge and skills that participants can obtain through our workshop," said agronomist Ariadna S. Orench, program coordinator and Nursery Solutions Ops technician at Bayer Crop Science's Smart Greenhouse facilities in Juana Díaz, Puerto Rico.
"Grow and Learn" participants learned basic agricultural principles through three educational modules that covered such topics as composting, creating a home vegetable garden and creating gardens that supply pollen.
"We appreciate the trust and opportunity to continue collaborating with companies like Bayer for programs like this one, aligned with our Two Generations model," said Bárbara Rivera, executive director at Vimenti. "Learning experiences that can be implemented or expanded within the family is one more tool that helps households to achieve or develop economic mobility."
The program's two sessions were held in-person. They were offered free of charge by Bayer Crop Science agronomists Emanuel Feliciano Vélez, Zenaida Ortiz Ortiz and Wilson Rivera González. The company provided all learning materials and interactive resources for both sessions.
"Bayer's project is an enriching one because it helps students expand their knowledge and to put into practice what they have learned as part of the regular curriculum at Vimenti. The students are really excited about this project, and I am sure they will learn and have fun," said Omayra Rodríguez, a science teacher for fourth and fifth graders at Vimenti School. "They also get to take this knowledge home, which means the whole family benefits."
Bayer's first collaboration with Vimenti took place in April 2021, when 30 students from the afterschool program completed the "Grow and Learn" program's "Agriculture at Home" module. This was a joint effort to raise awareness about sustainability, food security and career opportunities in agriculture among children and youths.