BBVA Puerto Rico discloses growth plans for '11, long term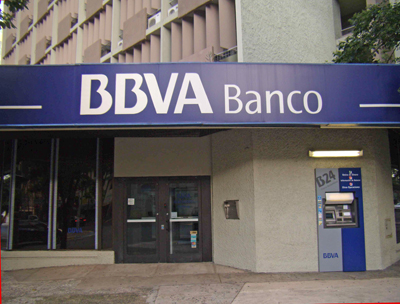 (Credit: Víctor Román)
BBVA Puerto Rico, one of the few banks that has successfully weathered the island's protracted financial meltdown, is looking to increase its local market share to 10 percent over the next five years, a high-ranking official said Wednesday.
BBVA CEO Rafael Varela told Business News Americas that the goal is to grow its current 7 percent market share "through organic growth." However, he admitted that will depend on the island's economic recovery.
"Last year was extremely difficult for Puerto Rico's banking sector due to the ongoing recession, sluggish credit demand, high level of loan defaults and an increase in provisions for loan losses given a high unemployment rate and the crisis in the real estate sector," he told BNA.
The year 2010 has already gone down in Puerto Rican history as the year when the Federal Deposit Insurance Corp., in conjunction with the Office of the Financial Institutions Commissioner, closed down three banks after determining their insolvency. Westernbank, Eurobank and R-G Premier, were closed and sold to Banco Popular, Oriental Bank and Scotiabank, respectively. The transactions called for splitting the losses of the shuttered banks between the FDIC and the new owners.
Varela said BBVA was also competing to pick up one of the troubled banks, but was ultimately left out of the loop.
Last month, Financial Institutions Commissioner Alfredo Padilla said ordering the closings was the right thing to do, and the expectation is that local banking will begin to show improvements this year.
"We're taking advantage of the disappearance of some of our competitors to increase our customer base in the retail, mortgage and corporate segments," Varela told BNA, predicting a volume increase of 7 percent in 2010, something he said "is a very aggressive goal if we consider that the local economy will likely post zero growth."
The Spanish bank's plans for this year include hiring 100 employees and overhauling its technological platform.
BBVA Puerto Rico is Puerto Rico's seventh largest bank, with $4.8 billion in assets and a $3.39 billion loan portfolio as of Dec. 31, 2010. BBVA Puerto Rico was one of the few banks that ended 2010 in the black and kept a level of reserves for loan losses at 50 percent — well above its competitors, Varela noted.
The information and documents contained in "News is my Business" are property of this blog. You may not copy, distribute or use this information without the express written permission of this blog's creator, unless it is for personal or educational purposes. Fees for commercial or for-profit use apply.