BPOP launches campaign advocating hope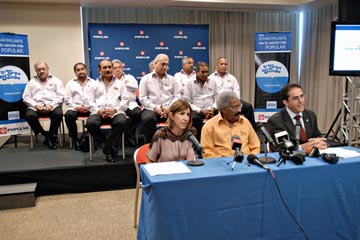 Banco Popular recently launched its newest institutional effort through which it seeks to inspire island residents to move forward and pursue their dreams through positive actions.
For the effort that is guided by the slogan "Echa pa'lante" (Move forward), the island's largest bank has signed up the enigmatic El Gran Combo, which has reworked its classic "No hago mas ná." The new version reworks the lyrics to encourage work, rather than complacency.
"Achieving this massive effort is instrumental for us at Popular, since we seek for people to identify with a message that serves as an inspiration," said Mariel Arraiza, senior vice president of marketing and business knowledge at Banco Popular. "We seek to attract people through a well-liked group with which they can identify, while we use a song that affirms the message we want to convey."
The J. Walter Thompson advertising agency was in charge of the publicity effort that encompasses radio, television, social media and billboard advertising. The company has also set up a website www.echarpalante.com, where people can share ideas and their experiences on how they were able to move forward in their lives.
"We want people to make this movement theirs and that it serves as an instrument to go forward," said Eduardo Negrón, senior executive vice president of Popular Inc.'s administration group. "For the success of both the campaign and the movement, there are four contrasting areas that we must address: pessimism vs. optimism, conformism and willingness, dependency and initiative, and resistance and transformation."
The campaign will run through December, but will include a major music concert headlined by El Gran Combo, in November.