Brand love making comeback, driven by AI, engagement-hungry consumers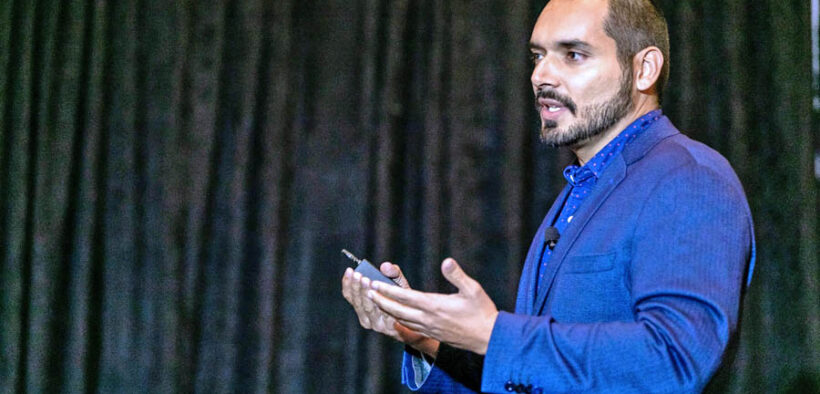 Transactions in marketing should be the result of a good relationship with consumers, not the objective. But transaction-based performance marketing builds short-term reactions instead of long-term relationships, weakening brands over time. With artificial intelligence, any company can afford to build a brand and promote brand love, not just the superbrands.
That was the core message of Álvaro Meléndez, CEO of Crant, a Miami-based brand intelligence company, last Friday at the 35th Puerto Rico Public Relations Practitioners Association's Convention: Era of Vertical Communication. Meléndez discussed how AI is disrupting the fields of marketing and public relations at a panel on the first day of the two-day convention.
Performance marketing, which allows brands to pay only when specific actions have been taken and certain business objectives met, is transaction-based. The content often tends to be too short to aid in relationship building and, therefore, brand building, Meléndez said. As a result, it is inadequate to promote brand love.
"Performance marketing is useful and has a place in marketing and public relations, but it shouldn't account for 80% of the investment," he said.
After years working on brand creation and differentiation at public relations agencies in Latin America, Meléndez saw that AI had something to offer companies that typically focus on performance marketing because they lack the budget to invest in traditional brand building efforts. He co-founded Crant in 2019 and created Ink Lantern, a product that allows companies to do their own brand building through an AI-driven platform.
"We saw a good opportunity to use AI to measure brand love and show brands how to increase it without the expense of surveys," Meléndez said.
AI gives more control to companies, public relations practitioners and marketers over their brands' narrative, he said, noting that "telling your brand's story, why you do what you do" will gain relevance as AI increasingly automates performance marketing processes.
"You have to create a genuine relationship with consumers – genuine meaning that people are with you voluntarily, that you're not interrupting them with something that they don't want to see," Meléndez told News is my Business in an interview. "They're with you because they want to be with you."
Tapping into the collective brain of Fortune 50 CMOs
Ink Lantern, which became available earlier this year and is being launched in Puerto Rico this month, has a feature Meléndez calls the "collective brain" that makes it possible for users to "chat" with chief marketing officers (CMOs) of the top 50 Fortune 500 companies.
"You can train an AI system with the thought leadership of these CMOs, then ask questions, such as what are the best strategies to build a brand or to improve differentiation, and it responds based on the collective knowledge of those top 50 CMOs," Meléndez said.
AI-driven brand building
Using AI, the product allows users to measure their brands against their competitors on a daily basis and obtain automatic insights that the AI learns from these competitors as well as the best brands in the world, Meléndez explained.
"Unlike Google, Apple, Microsoft and other superbrands, most brands don't have millions of dollars to do this. Ink Lantern gives them access to AI so that they can understand what works for the superbrands and how to apply it to their own brands. It's a shortcut to play at the superbrand level without a superbrand budget," he said.
"Imagine you have an unlimited budget, and you can hire 100 researchers to research what works best for any brand in the world, 100 strategists to turn that into strategy, and 100 creatives to help you convert that into content. Now imagine that you have that in a box on your desk and can use it any time you want," Meléndez said when explaining how the product works.
Consumers want to brand love
Much has been reported about brand love having its heyday in the late 1980s and '90s, but brand love seems to be making a comeback thanks to social media, e-commerce, and consumers' appetite for engagement as well as their preference for brands that are aligned with their values.
In fact, a Harris poll commissioned in 2022 by Google Cloud revealed that 82% of shoppers prefer a consumer brand's values to align with their own and that they will vote with their wallet if they don't feel a match. In the same poll, 75% of shoppers said they have dropped brands over a conflict in values.
Meléndez anticipates a shift from measuring engagement through performance marketing metrics, such as shares and open rates, to measuring brand love using AI. Micro-content can catch consumers' attention for a few moments, but it can't create the memorable experiences and lasting impressions that feed brand love, he said.
"You need to create your brand story and build your brand on your own, whether it's through articles, documentaries, events and other relationship-building tactics," he said.