British Airways revives connection between UK, P.R.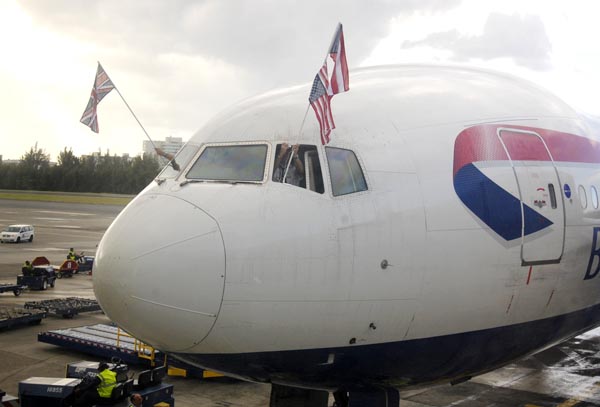 British Airways made its return to Puerto Rico after an 11-year absence with an inaugural flight that carried 280 passengers into Luis Muñoz Marín Airport in Carolina on Monday and once again joined the two islands.
On hand for the much-hyped arrival were high-ranking government and British Airways officials, who predicted the new bi-weekly San Juan-London flights will represent a boon for both economies as it will open the door to vacation travel packages and increased air and cruise ship connections.
The new service will inject about $8 million a year into Puerto Rico, with the arrival of some 13,000 passengers over a 12-month period, Economic Development and Commerce Secretary José Pérez-Riera said Monday.
"This is a vote of confidence that British Airways is giving Puerto Rico today, and it fuels the perception that we're working on that Puerto Rico is on its way to sustainable growth," Pérez-Riera said.
Following the 777 aircraft's symbolic runway christening, the British Airways flight deck crew opened the cockpit windows and pulled out and waved the Puerto Rican, U.S. and British flags from either sides of the plane — a gesture that drew a round of applause from those on hand to witness the arrival.
"Great Britain is the second most important market for Puerto Rico in Europe, after Spain, and before Germany," said Tourism Company Executive Director Mario González, who along with Secretary of State Kenneth McClintock and Ports Authority Executive Director Alberto Escudero, took turns welcoming the overseas carrier during a news conference.
British Airways is the second UK-based airlines to begin serving the local market in as many years. In November 2009, Virgin Atlantic also launched service from Gatwick Airport, something Pérez-Riera said has sparked the British traveler's interest in Puerto Rico.
"The British market grew by 50 percent during the 2009-2010 high tourism season, in comparison to the prior year, thanks to the boost given to the market by the Virgin Atlantic flight," he noted.
To ensure the British Airways flights will be full, the local government will be investing $300,000 to market the LMM/Gatwick, London service, he said. Furthermore, the local government has offered British Airways certain guarantees, which Pérez-Riera was not able to break down, in case the flights are not full.
However, British Airways executives are confident the new destination will be successful.
"San Juan is a premium destination for us and we're pleased to have the chance to welcome more Puerto Ricans to the UK," said Silla Maizey, managing director for London's Gatwick Airport.
"This is not going to be a hard sell for us," she said, noting that Gatwick Airport's management, Global Infrastructure Partners, is investing around $1 billion British Pounds — or about $1.6 billion U.S. — to spruce up the airport in a five-year period to accommodate the new traffic. British Airways will be moving into one of the new areas in September, Maizey said.
For British Airways, the new service will boost the number of flights to the Caribbean to 64 a week across 15 destinations. Aside from adding San Juan to its schedule, it will increase flights to Barbados from 10 to 12 a week, Antigua from five to six a week and St Lucia to Port of Spain from five a week to daily flights, also starting this month.
"Our new transatlantic business, in conjunction with [partners] American Airlines and Iberia, also opens a series of new opportunities and connections with the British Virgin Islands, Dominica, Martinica, Guadaloupe, St. Martin and the U.S. Virgin Islands, including St. Croix and St. Thomas," said Julie Kyse, commercial vice president for British Airways in Latin America and the Caribbean.
In San Juan, American Airlines will provide staff, runway and ground service to the arriving and departing flights, said Ian Blackman, vice president of customer service for British Airways in Latin American and the Caribbean.
In all, about 35 current American Airlines employees will work the British Airways counter and flights on Mondays and Fridays. The new British Airways service will represent job opportunities for those who stood to lose their jobs with the carrier's planned reduction of service out of LMM in April, Blackman said.
The flight leaves LMM at 5:40 p.m. — makes a stopover in Antigua — and arrives at Gatwick at 8:50 a.m. the following day. The return flight leaves Gatwick at 10:40 a.m., arriving San Juan at 4:10 p.m., after making the Antigua connection. Eventually, it is expected that the service will generate enough demand so that it becomes a direct flight, Blackman said.
Fares start at $847 for round-trip tickets and taxes.