Gov't to deploy broadband in Santurce via unused pipes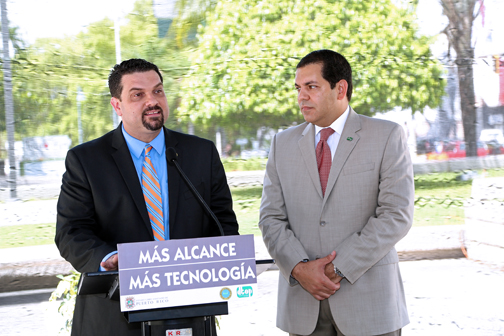 Two government agencies, the Department of Transportation and Public Works and the Puerto Rico Telecommunications Regulatory Board, signed a collaborative agreement Tuesday to develop new broadband infrastructure that will initially be deployed in San Juan's Santurce sector.
During a news conference, the heads of both agencies said once available, the technology will place San Juan in the list of U.S. cities that use broadband to improve communications via the Internet.
Once available, thousands of residents and businesses in the area will have better and faster access to high-speed Internet, said Transportation Secretary Miguel Torres-Díaz and TRB President Javier Rúa-Jovet.
"This agreement ensures the availability and accessibility to government-owned infrastructure in disuse and will expand the number of competitive opportunities in the supply of telecommunications services and facilities to all residents and businesses along 55,000 linear feet, in this populated zone the metropolitan area," said Torres-Díaz.
To launch the project, Transportation will implement a pilot program running fiber optic infrastructure within unusued pipes running along Ponce de León and Fernández Juncos Avenues.
"We are maximizing these facilities, converting unused equipment into useful tool to significantly improve the island's main city," he said.
Meanwhile, Rúa-Jovet said the signing of the agreement is another step toward setting Puerto Rico up as a place that offers speeds exceeding 1,000 megabits per second.
The pilot program is part of a government initiative known as "PAIS Banda Ancha" in Spanish, in which the "A" in "PAIS" stands for access, Rúa-Jovet said.
"Which is exactly what we're doing today: opening infrastructure and underutilized public easements (ducts, pipes, etc.) and destine them for the deployment of optical fiber, the medium that offers high speed data transmission," added Rúa-Jovet.
Through the agreement Transportation will be in charge of evaluating proposals for using the telecom infrastructure, while the TRB will provide technical assistance, the government officials said.