Burell, local chefs to headline 9th 'Saborea' culinary fest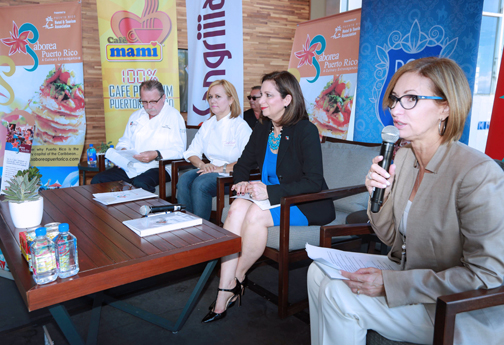 Familiar Food Network personalities and a roster of local chefs will headline the 9th edition of the Saborea Puerto Rico culinary fest, slated for April 7-10 on the grounds of El Escambrón beach in San Juan, organizers announced Tuesday.
"Gastronomy is an essential part of tourism because it makes the destination both attractive and appetizing. Our chefs are our island's ambassadors; they showcase our gastronomy to the world and Puerto Rico Saborea is the time of the year when they do so all together in one place," said Clarisa Jiménez, president of the Puerto Rico Hotel and Tourism Association, which sponsors the event.
"Saborea Puerto Rico is synonymous of world-class cuisine and the moment during which we reaffirm that our island is without doubt the culinary capital of the Caribbean," she said. "During this year's event we will have four days full of entertainment and exquisite food for visitors and local residents."
The chefs invited to this year's event include several who are making repeat appearances, including Chef Anne Burell, who's back for a third time and is known for her participation in Food Network's "Worst Cooks in America," "Chef Wanted" and "Next Iron Chef;" Simon Majumdar, who will be participating for the second year in a row, and is a regular judge on "Iron Chef America," "Then Next Iron Chef," "Cutthroat Kitchen," and "Beat Bobby Flay;" Chef Ben Vaughn, writer, restaurateur and U.S. National Food Day collaborator who is back for a second time; and Emily Ellyn, participant in "Food Network Star," "Cupcake Wars," and recent winner of "Cutthroat Kitchen."
The Saborea Puerto Rico weekend offers the opportunity to taste gastronomic creations from more than 70 local restaurants in addition to a great variety of wines, beers, and distilled spirits at the Tasting Pavilion on an oceanfront bluff facing Escambrón Beach.
This edition of Saborea Puerto Rico offers two additional events. The celebration begins April 7 with the opening party "Bubbles and Bites" at the Sheraton Puerto Rico Hotel & Casino in the Convention Center District. Renowned chefs, both guests and local, will prepare Puerto Rican tapas accompanied by different bubbly beverages, Jiménez said.
The party continues April 8 with the "Saborea Privilege Dinner" to be held at the Condado Plaza Hilton. Twenty Puerto Rican chefs will prepare a meal consisting of two appetizers and a main dish for 10 people per table.
"The Tourism Company is proud of this new edition of Saborea Puerto Rico, a Culinary Extravaganza," said Tourism Company Executive Director Ingrid I. Rivera-Rocafort. "There have been several of these marvelous events that have grown consistently year after year and have allowed positioning Puerto Rico as a world-class culinary/gastronomic destination."