OSJ businesses, artists have high hopes for 'La Campechada'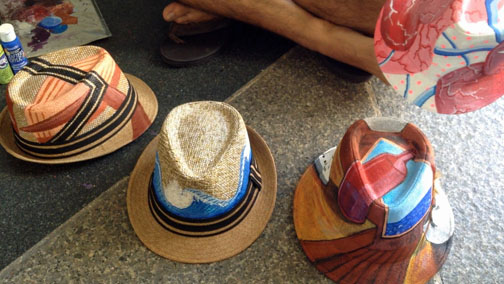 Editor's Note: This is the second of three stories we're publishing today on this weekend's "La Campechada" event taking place in Old San Juan, exploring how it impacts the city's economy and benefits its participants.
By Nicole Ortiz
Special to News is my Business
Several restaurant managers and artisans in Old San Juan agreed that "La Campechada" is going to represent a positive economic boost for local artists and shops making a living in the historic city.
"La Campechada" is a cultural event organized by the Institute of Puerto Rican Culture (ICP, as it is known by its initials in Spanish) to be celebrated this weekend in Old San Juan. In its third year, it will be dedicated to Rafael Tufiño, a Puerto Rican painter, printmaker and cultural figure on the island.
In interviews with this media outlet, several artists and business operators agreed on the positive impact that the event will have on Old San Juan.
David Seijo, assistant manager of Aureola, a Mexican cantina themed restaurant, said "since 'La Campechada' started, it has represented the start of the high season for us."
Seijo explained that September and October are usually slow months for San Sebastián Street, but once "La Campechada" starts, activity starts to flow and the tourist movement in Old San Juan is heavier. Seijo said in comparison to the San Sebastián Street Festival, which can move around 250,000 people, "La Campechada" attracts around 30 percent of that.
On the other hand, Ana Delgado, a local artisan who will be participating for the second year in the massive cultural event, said this represents a great opportunity for all artists, who get a shot of selling more.
"The expectation for this year is bigger. Maybe not like San Sebastián, but with a high volume of people," she said.
Delgado said the event is also harder on local artisans because although there is a larger crowd, there are also more artisans participating, which represents competition in itself.
Antonio Folch, another local artisan, said "it's a great opportunity for people to see the art," adding he also believes it represents a greater monetary gain for him.
Ricardo DeSantiago, a five-year employee in El Patio de Sam, a restaurant that was founded on the San Sebastián street in 1948, agreed with Delgado, saying there are high expectations since they are trying to reach various age groups, such as teenagers, young adults, and adults.
DeSantiago also explained that "(La Campechada) is the hook," and tourists will "love" it, because it represents a cultural event that can make them feel like they are part of Puerto Rico's typical environment. He added he "wouldn't be surprised" if most of them came back looking for a similar experience.
In turn, Seijo said activities should not be held only in certain parts of San Juan. He recommended activities be better planned and organized, so there can be more effective publicity and more people can participate.