CBP breaks ground on $18M facility for Mayagüez marine unit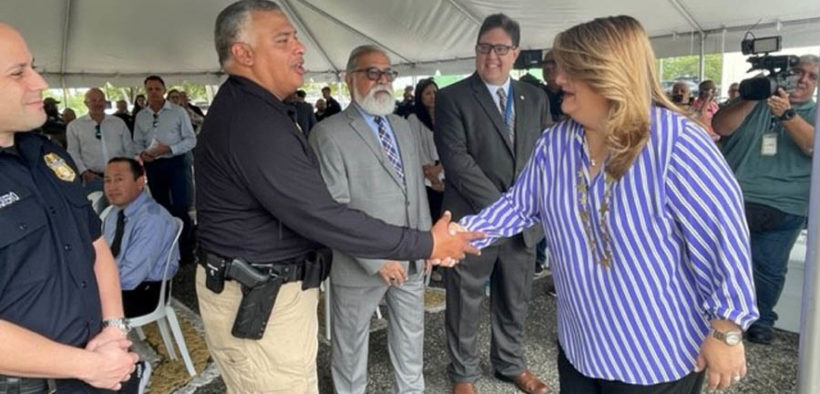 U.S. Customs and Border Protection's (CBP) Air and Marine Operations (AMO) broke ground Thursday on a new $18 million building for its Mayagüez Marine Unit, at Cabo Rojo's Boquerón sector.
The new Mayagüez facility will include more than 13,000 square feet of an administrative operations building, a boat maintenance and storage hangar with hurricane tie downs, boat trailer parking, and state-of-the-art security systems. 
The project is expected to be completed in spring of 2024, Caribbean Air and Marine Branch Director Augusto Reyes said.
"The Mayagüez Marine Unit is one of the busiest units in AMO's marine program. This new facility will allow for AMO agents to better carry out their Homeland Security mission," he said. "We will be more able to rapidly respond to a variety of missions and operations with the enhanced facility features."
On hand for the groundbreaking were Puerto Rico's resident commissioner in the U.S. Congress, Jenniffer González; Cabo Rojo Mayor Jorge Morales-Wiscovitch; Jonathan Miller, executive director for Operations-AMO; John Priddy, executive director, Southeast Region; Héctor Montalvo, director of the Border Patrol & AMO Program Office; and José Fabre, executive director, Budget Office at the CBP Office of Finance. 
The Mayagüez Marine Unit has been conducting Department of Homeland Security missions from temporary mobile trailers at this location since 1997.
The trailers "are inadequate and have needed constant repair or replacement. A new, permanent facility located adjacent to AMO marine assets will greatly increase AMO ability to respond to border security threats in a timely manner," agency officials said.
In November of 2022, three AMO agents from the marine unit were involved in an exchange of gunfire with a suspected smuggling vessel. All three agents suffered gunshot wounds and Agent Michel Maceda died because of his injuries.
AMO seeks to dedicate the new facility in honor of Maceda.
The Caribbean Air and Marine Branch consists of five marine units and an air unit and is the only federal law enforcement organization in the Caribbean Basin with integrated air and maritime interdiction capabilities.
AMO uses radar facilities and assets to detect and intercept air and marine smuggling attempts in Puerto Rico and surrounding areas.
The Caribbean Air and Marine Branch's area of responsibility extends south to international waters of Venezuela, west to the Dominican Republic and southeast to the Lesser Antilles.