CDI Labs gets $11.4M to launch 2nd phase of R&D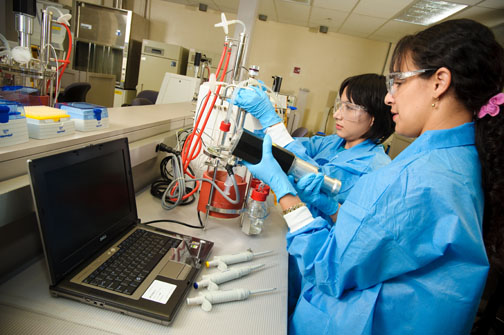 CDI Laboratories in Mayagüez — the only company in the world using pioneering technology with the ability to generate high specificity monoclonal antibodies — began a new phase of research after receiving a combined $11.4 million in local and federal funding to develop new technologies in the field of medicine.
During a news conference Monday, company officials confirmed getting a new $8.7 million allocation from the National Institutes of Health and $2.7 million in combined funds from the Science, Technology and Research Trust and the Puerto Rico Industrial Development Company.
"This new phase for CDI is an important step in implementing our public policy to increase research and development in Puerto Rico," said Pridco Executive Director José Pérez-Riera.
CDI is located at the Guanajibo Industrial Park, where Pridco operates its Bioprocesses Development and Training Center for emerging operations.
"The goal of this new research is to develop a new generation of antibodies capable of identifying proteins that regulate gene expression, allowing us to understand the behavior of diseases like cancer, diabetes, Alzheimer's and other chronic conditions," said Ignacio Pino, president of CDI, during the news conference at Pridco's Hato Rey headquarters.
CDI currently serves customers in Puerto Rico, the U.S. and England and soon hopes to enter the China and Korea markets. Its client roster includes biopharmaceutical companies, academic research centers, hospitals, laboratories and companies in the health sector.
In addition, CDI is close to reaching agreements with the José de Diego Research Foundation and the Ponce School of Medicine for the discovery of various types of monoclonal antibodies, Pino said.
CDI has also received support from the Science and Research Trust, which aside from putting up $2.1 million in funding, it has offered technical advice to help the company accomplish technology transfer and intellectual property development. Pridco also contributed $675,000 to help CDI Laboratories in that process.
At present, CDI is working on patenting the novel methods it applies to generate and characterize monoclonal antibodies. Once the patents are approved, CDI will co-own them with the Johns Hopkins School of Medicine, Pino said.
"The patent process should take between three and five years," Pino concluded.