Celero Health unveils new app for health sector at SXSW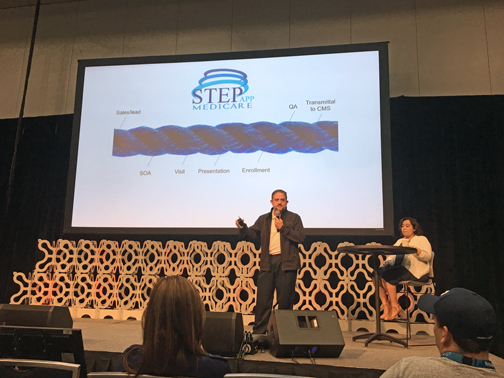 Puerto Rican startup Celero Health Solutions unveiled Wednesday a new and 100 percent paperless way for independent health-insurance brokers to enroll Medicare Advantage beneficiaries into a variety of different health plans.
Through the new Medicare STEP app, Celero is looking to modernize a complex and inefficient process that is currently mostly paper-based and vulnerable to compliance violations and fraud with an intuitive cloud-based and mobile solution that ensures regulatory compliance throughout, company executives said during the presentation at the South by Southwest (SXSW) Interactive festival in Austin, TX.
"Our product was originally designed for agents and promoters working for Medicare Advantage payors to better inform beneficiaries about the features of the plan and also to capture the enrollment process electronically through wireless tablets, speeding up the process and reducing errors," said René Yamin, Celero co-founder.
"We quickly realized that the same features that made the product valuable for payors were also valuable for independent brokers that usually offer Medicare Advantage plans from multiple companies," said Yamin, who is also the company's chief innovation officer.
The initial deployments of the Medicare STEP App has resulted in a two- or three-fold increase in agent productivity and 15 percent reduction in back-office support resources required, the company said.
According to the Center for Medicare and Medicaid services, there are currently some 18 million Medicare Advantage enrollees in the United States representing more than $150 billion in healthcare expenditures and the number of beneficiaries is growing at a rate of 1 million per year.
Celero is part of a delegation of Puerto Rico-based technology startups that traveled to SXSW event to present their offerings to potential customers, channel partners, and investors.