Cemex de P.R. to pay nearly $300K in penalties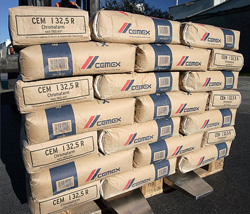 The U.S. Department of Labor's Mine Safety and Health Administration announced Thursday that cement producer CEMEX de Puerto Rico has agreed to pay $291,722 in penalties, and implement enhanced safety measures at its three MSHA-regulated facilities in Puerto Rico.
The settlement resolves 119 citations and orders issued for safety violations at the company's Ponce Cement Plant and Cantera Canas mines. MSHA issued the citations and orders for a wide variety of violations, including obstructed and unsafe travel ways and workplaces, safety defects on mobile equipment and machinery, and unguarded machine parts.
An administrative law judge with the Federal Mine Safety and Health Review Commission approved the settlement on June 7, 2016. The Regional Solicitor's Office in New York negotiated the settlement on the department's behalf.
CEMEX de Puerto Rico has agreed to undertake enhanced measures to address and improve safety conditions at the Ponce Cement Plant, Cantera Canas and its third mine in Puerto Rico, Florida Lime. In the settlement, the company agrees that:
Within 30 days of the date of the agreement, CEMEX will hire — at its expense — an independent outside safety consultant knowledgeable about surface mining and cement plant operations to conduct annual, wall-to-wall employee safety audits of these three facilities over the next four years.
It will arrange for MSHA's Educational Field and Small Mine Services to teach a mine safety course and cement plant safety course to safety directors, assistant safety directors, area supervisors and foremen.
Regional Solicitor Jeffrey S. Rogoff said he expects these measures will provide a safer working environment for CEMEX's employees. The agreement by CEMEX to these enhanced abatement measures in no way preempts MSHA's statutory authority to conduct inspections of the company's facilities at any time or issue citations as it deems appropriate.
"I am pleased that MSHA, our department's attorneys and the company were able to reach a settlement that includes penalties as well as enhanced safety measures," said Joseph A. Main, assistant secretary of labor for mine safety and health.
CEMEX de Puerto Rico is a subsidiary of CEMEX, a global building materials company that provides cement, ready-mix and other materials to customers in more than 50 countries. It is one of the world's leading cement manufacturers with $14 billion in annual sales and nearly 43,000 employees worldwide.