Centros Isla launches 'ValuText' location-based mobile marketing program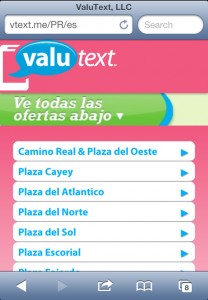 Centros Isla, operators of 15 shopping centers in Puerto Rico, announced Wednesday the launch of "ValuText," a location-based, text message service exclusive to its malls that couples physical retail assets with state-of-the-art, location-based mobile marketing.
The program allows shoppers to connect with Centros Isla retailers as they enter the shopping center, delivering real-time sales and promotions via text.
"Centros Isla is committed to providing value to its customers," said Luke Petherbridge, president of ValuText. "Through the power of emerging technology, ValuText gives customers access to real-time offers when they are most relevant, when they are actually at the center."
This service is free and sends real-time retailer offers via text message to opted-in shoppers once they enter a pre-defined, virtual perimeter established around Centros Isla shopping centers. Since this technology is compatible with most mobile devices — smartphone or traditional cell phones — running on AT&T, Sprint and T-Mobile's networks, it allows Centros Isla tenants to reach the broadest possible audience.
With the growth of social and digital media, e-commerce, smartphones, deal-related programs and text messaging within Puerto Rico, it was the natural expansion market for ValuText, company officials said.
"Shoppers always have their mobile phones with them and our retailers always have great discounts and deals," said Martha Hermilla, senior marketing director for DDR in Puerto Rico. "ValuText merges these two concepts and provides a great platform to put the daily deals into the hands of our customers."
While Claro does not currently recognize this technology, their customers can still participate in ValuText by accessing discounts and promotions via a smartphone by scanning a QR code displayed on signage at any of the 15 Centros Isla properties.
"ValuText" launched Oct. 1 and Centros Isla will expand the program during the holiday shopping season.