U.S. district judge certifies class of P.R. residents suing PREPA for fuel overcharges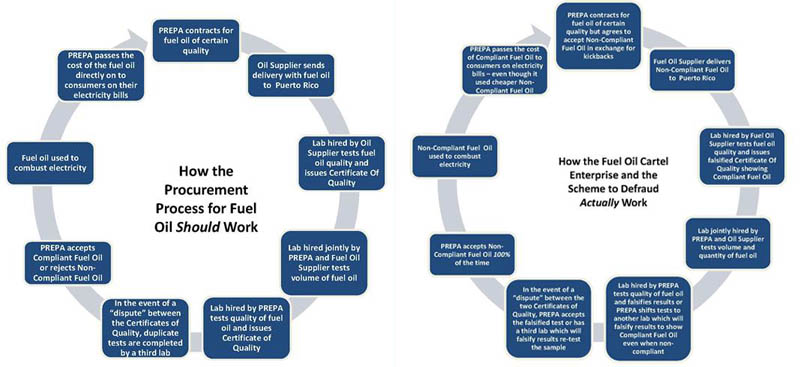 U.S. District Court Judge Jay A. García-Gregory has certified a class of millions of Puerto Rico residents who sued the Puerto Rico Electric Power Authority and several companies for overcharges through what they called a "fuel oil fraud scheme," Hagens Berman, the law firm heading the action, confirmed.
In the original lawsuit filed Feb. 24, 2015, the plaintiffs sought compensation for their estimated $1 billion losses in electricity overcharges, going against 20 defendants including PREPA, Shell Oil, Petrobras, Alchem Labs, and various other laboratories and fuel oil suppliers involved in the matter.
"For years, PREPA and others involved in this fuel oil fraud conspired to get away with robbery, and their complex cartel raked in ill-gotten gains of more than $1 billion," said Elizabeth Fegan, a partner at Hagens Berman and court-appointed liaison counsel in the case.
"We are immensely grateful that the court is allowing the case to proceed for the class of residents of Puerto Rico who were unknowingly overcharged, and we look forward to bringing them recovery for their losses," she said.
"This is a milestone victory for this class of residents and business owners of Puerto Rico," Fegan said.
On Sept. 11, 2018, García-Gregory also denied defendants' request for sanctions against the plaintiffs, stating the disclosures and evidence presented by the plaintiffs was sufficient.
In the suit, Puerto Rico residents and businesses accused PREPA and the rest of the defendants of perpetuating an extensive fuel oil fraud, resulting in users of electricity in Puerto Rico being overcharged for electricity since 2002.
The suit states the defendants colluded to deliver "dirty" fuel oil to PREPA while charging the higher prices for clean fuel oil — prices that were directly passed to users of electricity.
Attorneys allege that PREPA — one of the largest public power utilities in the United States — fraudulently agreed to accept millions of barrels of fuel oil that did not meet specifications of contracts between PREPA and its oil suppliers, or specifications set by the Environmental Protection Agency.
PREPA accepted this non-compliant fuel oil and the laboratories certified the fuel oil as compliant due to a long-running corruption scheme that permeated the agency, according to the lawsuit.
Hagens Berman's class-action lawsuit seeks to recover out-of-pocket losses, compensatory damages and punitive damages for plaintiffs under the Racketeer Influenced and Corrupt Organizations (RICO) Act and for the disgorgement of profits under the common law of unjust enrichment.