Chef Quiñones wins 'MasterChef Latino' competition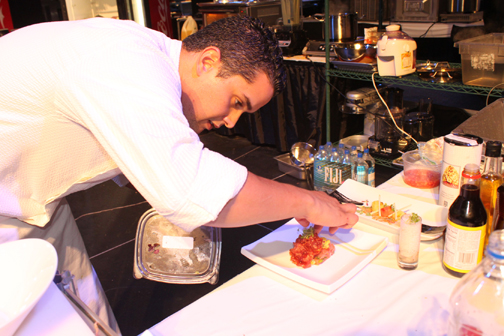 Chef Christian Quiñones, the 29-year old executive chef and owner of Laissez Faire Cuisine Internationale Restaurant in Mayagüez, won this year's edition MasterChef Latino culinary competition, considered one of the most important events of its kind in Latin America and the Caribbean.
He beat out 24 other local chefs who competed. Quiñones scored the highest in the challenges, taking the finals celebrated Nov. 27 at the Puerto Rico Convention Center in San Juan.
"I want to thank everyone who supported us during the weeks of this fierce competition. It's a huge honor to have achieved the title of MasterChef Latino, Puerto Rico Edition 2012," Quiñones said. "I'm super proud of this achievement of our team of three chefs from western Puerto Rico, including my colleagues and friends Chef Pierre Saussy and Chef Jeremie Cruz."
"It was also a great pleasure to share during these past weeks with my new friends and colleagues from the food industry and to have the opportunity to compete in a group of such talented people," added the professional cook known for his innovation, creativity and mastery of the various cooking techniques.
Quiñones studied restaurant management and culinary sciences at Florida Culinary Institute in West Palm Beach, Florida and earned another degree from the San Juan Hotel School. During his career, he has worked with world renowned chefs, namely, Alain Alegretti, Mollie (Oprah Winfrey's chef) and Jean George Vongerichten.