Chrysler, Jeep, Dodge and Ram Dealers Assoc. donates to FREMS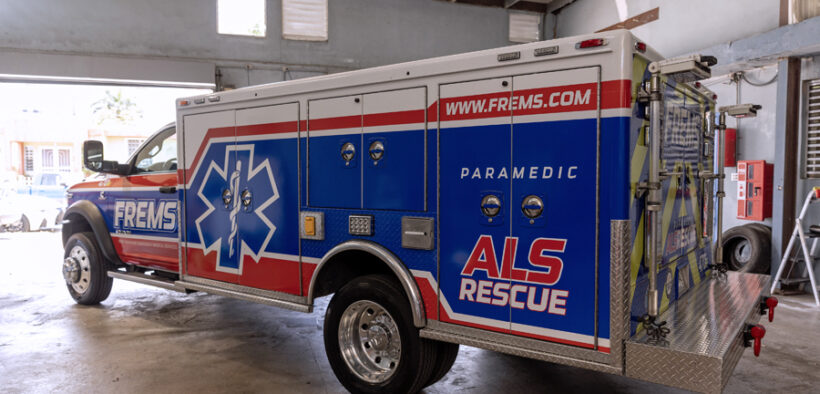 As part of their commitment to the community, the Chrysler, Jeep, Dodge and Ram Dealers Association donated a Ram 5500 truck to the nonprofit First Response Emergency Medical Services (FREMS).
"We recognize the tremendous work carried out by this group of volunteer paramedics, and we hope that with this unit, they can continue their life-saving mission," said Charlie Vaillant, president of the Chrysler Dealers Association.
FREMS has more than 40 volunteers, made up of licensed paramedics who volunteer their time to offer rescue, firefighting and first aid services at no charge in the San Juan metropolitan area and neighboring municipalities. These volunteers are trained to respond to handle a range of emergencies, including traffic accidents, fires, floods, penetrating injuries and other life-threatening situations.
"These heroes deserve all the support and respect for their commitment to the community and for dedicating their time to serve others," Vaillant said. "On behalf of our dealerships, we thank them for their invaluable service. Our network of eight dealers is committed to supporting the community and giving back to the continuous support we receive from customers."
The new emergency vehicle is fully equipped and ready for any rescue operation. It features hydraulic tools for vehicle and water rescues, a power generator, patient immobilization equipment, stretchers and more.
"We are grateful to the RAM dealerships for this collaboration," FREMS Executive Director Eliel Báez said. "We had a great need for this kind of unit since the previous one was nearly 20 years old, and now we can ensure more efficient and effective services."
This team of paramedics has been providing their services through 911 calls from the municipality of San Juan and the Medical Emergencies Bureau since 1991, for a total of 32 years of service. It was founded by a group of paramedic friends who saw the need to improve emergency responses when lives are at stake. They began by meeting on weekends in their personal vehicles and responding to calls for help until they grew into the organization they are today.