Claro TV lays out proposed IPTV offer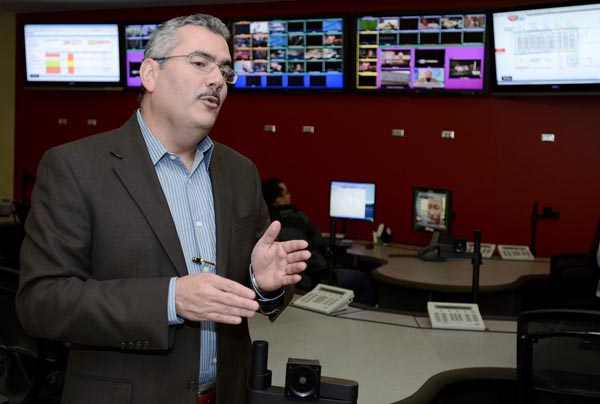 Hundreds of channels, "a la carte"-like programming and cutting edge features based on a $60 million platform are some of the features that Claro TV is ready to offer island customers through the Internet-based cable television service it is proposing to launch.
But to do that, it needs a cable television franchise license from the Telecommunications Regulatory Board, something it requested more than three years ago. Now, Claro is seemingly pressing the agency to take the "pause" button off and grant the license so that it can break into the market.
Among other things, Claro TV is promising to offer an infinite amount of content from which customers can opt into through set monthly packages, on-demand, or a combination of both.
"Through IPTV, the client can request what it is that they want to watch, and that type of interaction opens a world of entertainment opportunities for them," said Carlos García, who heads the Claro TV division.
Claro has been pursuing a cable television franchise license since February 2008. However, its application at the TRB was met with stiff opposition by existing cable companies, especially from Onelink Communications. The San Juan metropolitan area cable company challenged Claro's petition all the way to the Supreme Court, which in December 2010 reverted the case back to the TRB.
But while deliberations took place at the different forums, in April 2010, Claro opted to break into the paid television market by launching satellite service, as it was a segment the TRB did not have jurisdiction over until earlier this year. Hence, it did not need a license or authorization to begin signing up customers.
Company officials refrained from sharing the specific customer base Claro has amassed through its Internet service in the past 16 months, but said expectations are high that IPTV would be accepted as well as its current paid television service.
"In Puerto Rico, this is the first time that a non-cable provider has offered television services, we broke a stigma with our satellite television service," said García. "We also didn't use everybody else's model of fixed service plans; we allow customers to make combinations of packages that they could not do with other providers, and that's how IPTV will be."
ClaroTV currently offers a basic plan that includes more than 50 local and international channels in English and Spanish.
"We recently updated our IPTV platform to have the latest software available in the market," said García, adding Claro's broadband-based television service runs on Microsoft's Media Room application.
The company plans to continue its satellite service upon obtaining the cable television franchise license it is seeking, as it is a necessary component to reach Puerto Rico's topographically challenging areas, as well as the municipalities of Vieques and Culebra.
"We would have to install undersea fiber optic cable to reach them via IPTV, so the satellite solution is best here," García noted.
Citing unnamed sources, Claro TV officials said there were an estimated 45 million IPTV users worldwide last year, a figure that is continuously growing.