CofC, gov't share ideas, proposals during forum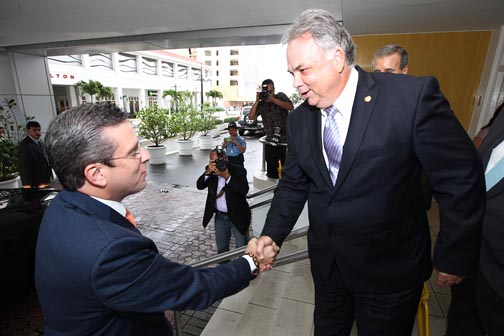 More than 20 agency heads took part in an economic forum hosted  by the Puerto Rico Chamber of Commerce Thursday to exchange ideas and proposals directed toward furthering the island's socioeconomic development.
"Today we had a comprehensive program that presented issues of importance to our economy and to strengthen the business sector. Meetings like this allow us to join forces and become an active part of the decision-making and implementation processes of developing initiatives that contribute to business growth," said CofC President Jorge Cañellas.
Among the most important agreements are the creation of a working group to support businesses, continue efforts to obtain the benefits of Section 933A of the Internal Revenue Code, the development of an educational curriculum with an entrepreneurial approach, recommending interpretive guides for businesses on the recently approved Law 100, focus Puerto Rico tourism as an export industry, develop new methods to promote tourism to South America and Europe, and standardizing permitting processes.
The forum consisted of nine round tables held concurrently so that CofC members and agency heads could discuss specific topics, namely: promotion of trade and industry, labor and human resources, tourism, business regulations, agriculture, public finance and structural reforms, education, future infrastructure, and transportation, logistics and international trade.
The public and private sector representatives also agreed to create a system of quality standards in agriculture, assess the case of the national patent that businesses say places a burden on their operations, consider the need for a long-term public education policy, create partnerships with infrastructure agencies and reduce operational costs, improve access to the airport in Aguadilla, reactivate the Puerto Rico World Trade Center concept and place Puerto Rico asa  liaison between Latin America and the United States, among others.
The CofC will establish establish a metrics process to ensure compliance with the agreements, the group said.