209 companies join Lufthansa's business supply chain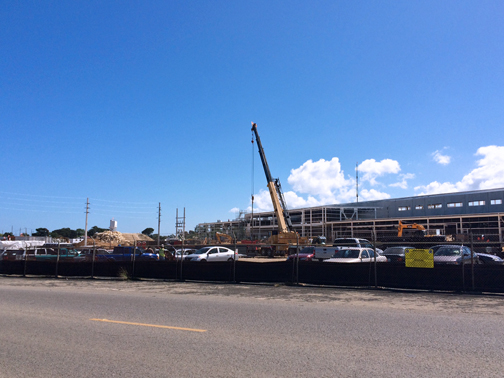 Some 209 companies, mostly local small and medium businesses that took part in a meeting with Lufthansa Technik Puerto Rico late last year, have identified opportunities with the firm and its project in Aguadilla, the government announced Tuesday.
During the meeting, Lufthansa presented its needs for services and materials for the maintenance, repair and overhaul facility it is building in Aguadilla, resulting in 316 information profiles put together by the Puerto Rico Trade and Export Company and the Puerto Rico Industrial Development Company.
The documents were in response to the Request for Information that Lufthansa issued to cover its 24 major service needs, the government said.
"As the maintenance, repair and overhaul project in Aguadilla progresses, the local supply chain continues to take shape, stimulating the multiplier effect of Lufthansa Technik in Puerto Rico" said Antonio Medina-Comas, executive director of PRIDCO. "The information submitted by these companies, mostly local small and mid-sized businesses, validates the ability of our business ecosystem to provide support for major international investments."
Of the 209 companies that submitted their information profiles, 181 are local companies and of these 138 are in the small business sector. Lufthansa Technik is already evaluating the information packages and has already started to request proposals for priority service areas.
Among the needs identified by Lufthansa Technik at this stage of the project were different services in the areas of human resources, facilities, production machinery and equipment. Lufthansa Technik expects to contract several of these services to the local companies before summer.
Meanwhile, Puerto Rico Trade and Export Executive Director Francisco Chévere emphasized "our main goal in this project has been to provide our companies, especially small and mid-sized businesses, a liaison with Lufthansa Technik to maximize their business opportunities with the company."
"We were positively surprised about the huge interest in doing business with Lufthansa Technik Puerto Rico," said Elmar Lutter, CEO of Lufthansa Technik Puerto Rico. "After the December event we had the feeling that for all our service needs there is a solution in Puerto Rico."
"After receiving [more than] 300 information profiles, tailored to our needs and supported by CCE and PRIDCO, we are sure that we will be able to contract multiple local companies and grow towards the future," he said.
The government will continue to promote the local business supply chain for Lufthansa Technik and other aerospace projects through a series of orientation events that will be organized to maximize the development of local businesses, and at the same time, stimulate the creation of direct and indirect jobs for the western region.
The next orientation event is slated for Mar. 26 from 8 a.m. to 12 noon in El Faro Suites & Conference Center in Aguadilla. The government will provide information on available programs and incentives.