USACE adds $265M to contract with Fluor Corp.; Whitefish finishes work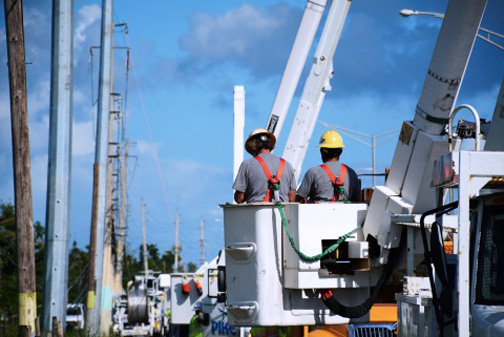 The U.S. Army Corps of Engineers (USACE), Engineering and Support Center in Huntsville, Alabama, awarded a $265 million modification to an existing contract with Fluor Corp. to repair the power grid in Puerto Rico.
This modification increases the ceiling on the original contract awarded Oct. 16 to Fluor Corp., Irving, Texas, from $240 million to $505 million, USACE stated.
"This will increase our ability to provide the manpower, equipment and technical expertise as we work to help repair the power grid," said José E. Sánchez, director of the USACE's Puerto Rico Power Grid Restoration Program.
"Our goal is to help the Puerto Rico Electric Power Authority return electricity to homes and businesses as quickly as possible, and this additional funding for this contract is a significant step in meeting that goal," he said.
This increase in the contract ceiling ensures there is no gap in the ongoing efforts to repair transmission and distribution lines, and includes equipment evaluation and repair, as well as the re-energizing and recommissioning of substations and switching stations.
On Dec. 1, the USACE awarded a time and materials contract with an $831 million ceiling to Fluor Corp. to support ongoing work to restore the power grid, pushing the total amount for the two Fluor contracts to $1.3 billion.
"Repairing the power grid is a process that includes four main efforts: provide temporary emergency power and spot generation for critical facilities; ensure adequate generation at power plants; reinstall and repair transmission lines; and restore and repair distribution lines, ultimately providing power to local residences," the USACE stated.
"USACE looks forward to the continuing partnership with PREPA, the Department of Energy and Federal Emergency Management Agency on this important endeavor," it further noted.
Whitefish Energy completes work in Puerto Rico
In related news, PREPA contractor Whitefish Energy announced Wednesday it has completed the projects to make transmission line and electrical grid repairs in Puerto Rico.
As the first contractor to get to the island following the destruction of Hurricane María on Sep. 20 through a $300 million contract that was subsequently canceled, Whitefish Energy's work was primarily focused on main 230kV transmission lines that covered the remote, mountainous areas of Puerto Rico and connected key power generating stations and substations to major population and industrial centers.
Over the course of two months, Whitefish Energy brought more than 550 crew members and 600 pieces of heavy equipment to the island, overcoming early logistics and transportation challenges to get both manpower and support services to Puerto Rico, the Montana-based company stated.
By the time Whitefish Energy completed its work on Nov. 30, power restoration stood at 65.6 percent and it should continue to increase with the Nov. 30 completion of the 50900 transmission line that runs from the south side of the island into the greater San Juan metropolitan area.
With the restoration of key transmission lines, PREPA and other contractors can now continue the distribution line work that will bring power into more neighborhoods and facilities, Whitefish executives said.
"We are extremely proud of the work our teams accomplished and the contribution we made to the recovery efforts in Puerto Rico," said Andy Techmanski, CEO of Whitefish Energy.
"This was a mission and more than just a job, and our linemen and subcontractors worked together and remained focused on helping the people of Puerto Rico," he said.
"We are pleased that many of our subcontractors are going to stay to continue this effort through completion. We leave the island knowing that we were the right company for the job and did outstanding and vital work despite many obstacles," he added.
Whitefish Energy's scope of completed work included the following sections of Puerto Rico's electrical grid:
Restoration of the 50900 230kV line from Complejo de Aguirre to Aguas Buenas (and portions of the 51000 230kV line that runs parallel)
Restoration of the 50100 230kV line from Cambalache to Manatí
Restoration of the 50200 230kV line from Manatí to Bayamón
Restoration of the 37400 115kV line from Manatí to Barceloneta
Restoration of the 36200 115kV line from Villa Betini to Quebrada Negrito
Restoration of the 3000 38kV line from San Juan to Juntos
The sum of the Whitefish Energy work covered more than 200 miles of transmission lines, replacing nearly 50 towers, dismantling a similar number of towers and inventoried parts for salvage and reuse, replacing nearly 120 poles, and completed corrective action on at least 200 other transmission structures, Whitefish confirmed.