P.R. Convention Center launches campaign to boost events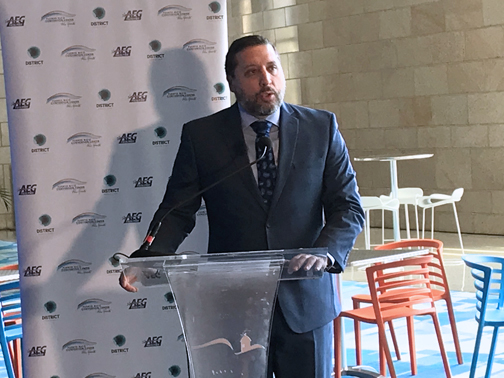 Looking to generate new business opportunities to promote the island's economic growth, the operators of the Puerto Rico Convention Center are launching a campaign to attract more local and international events to the venue.
Using the "Do your thing" tagline, the campaign — which will run locally and internationally — seeks to draw greater awareness of the venue, to expand beyond conventions and into more concerts and social events, Jorge L. Pérez, general manager of AEG Facilities, the Convention Center's operator, said.
"With the 'Do your thing' campaign, we reinforce the Convention Center's capacity to carry out all type of events, from a business meeting, a first-class convention, to high-caliber musical events within its 580,000 square feet," Pérez said.
The campaign, developed by advertising agency Buena Vibra Group, seeks to highlighting Puerto Rico as a destination and the infinite opportunities that a guest, tourist or executive on the island can have. The one-year campaign entails an initial $100,000 investment that will be split between the Convention Center and the newly formed Destination Marketing Organization.
"We wanted to integrate the DMO to work as a team and be able to have greater reach," Pérez said, noting that the DMO will officially join the effort July 1, and by the end of the summer, the campaign should launch in the U.S. mainland and internationally.
The Puerto Rico Convention Center is the anchor of the San Juan Convention Center District, which comprises the Sheraton hotel and two Hyatt properties. A massive entertainment complex, District Live! is currently under construction.
AEG Facilities, which was chosen to run the Convention Center through a competitive bidding process, said that although 2017 was an unusual year, the expectation is that it will wrap up Fiscal 2018 on June 30 with 300 events and 650,000 visitors under its belt.
"As of March 31, the group economy had represented a benefit for Puerto Rico of $22 million, and 26,000 hotel room nights," he said, noting that one major group, the Internet Corporation for Assigned Names and Numbers, or ICANN, has reserved space for events in 2020, 2021 and 2022 after holding a conference here earlier this year.
"But we're not satisfied. We want to become the best Convention Center in the world and that's what we strive for every day," Pérez said.
Part of that effort is hosting events for individuals, such as salsa classes, comedy nights and live music to appeal to different generations, he said.
"We have the obligation to maximize the space, and we're looking to spark traffic on days when there are no major events," he said.
The Puerto Rico Convention Center became the local and federal government's command center during three months after Hurricane María hit last year, which Pérez said represented an additional 15 percent to 20 percent in the 2018 revenue projections.
"We were at 100 percent occupancy for three months. The Federal Emergency Management Agency saw that we had prior experience that put us in a position to succeed," he said.
The 13-year-old Convention Center has generated more than $140 million in gross income for rent, food and drink, as well as indirect income, from July 1, 2017 to March 31, 2018. To date, the facility has received more than 5 million visitors.