CooperVision announces $500M investment in Puerto Rico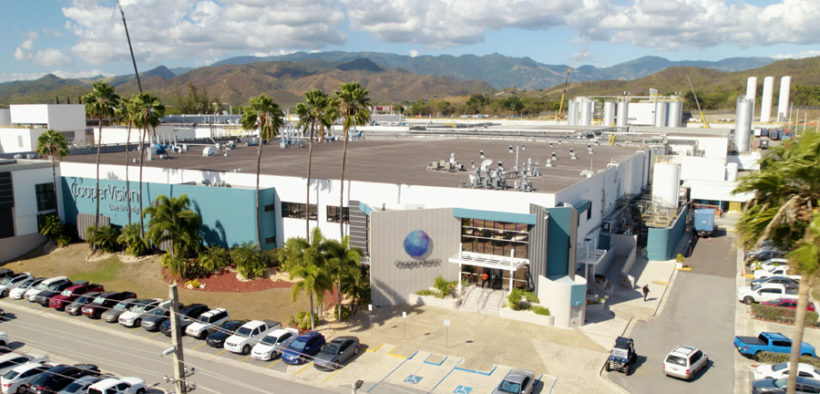 CooperVision, one of the leading contact lens manufacturers globally, has announced that it will be creating nearly 700 jobs over the next three years in Puerto Rico with an investment exceeding $500 million for an expansion to its facilities in Juana Díaz and the acquisition of new facilities in Ponce.
"Today is a special day, a day that fills us with joy and humbly with a lot of pride. This significant investment represents a global footprint of CooperVision and the continuous positive impact on our island's economy," said Rolando Torres, chief operating officer of CooperVision. He further noted that the move will ensure approximately 88% growth of local operations over the next five years.
The expansion includes five projects, with the first being the conversion of a 22,000-square-foot warehouse into a manufacturing room to install three new high-volume, automated lens manufacturing cells. The second project will add an additional 120,000 square feet, potentially adding another 11 manufacturing cells to increase production to one billion lenses.
Torres also highlighted plans to expand CooperVision's main building in Juana Díaz by an additional 100,000 square feet, providing more space for the warehouse and the possibility of adding up to six new packing lines.
A new company entrance will also be constructed that is expected to improve security and vehicle traffic.
As part of its growth plan, CooperVision will acquire the former Roche Diagnostic facilities in Ponce, which will be used to create a world-class facility featuring sustainable design and advanced technology. The new facility, representing an initial investment of around $100 million, will span 115,000 square feet and create what the company called a highly innovative product to combat childhood myopia called MiSight.
"These five projects announced by CooperVision will create 700 new jobs that will benefit residents of the southern region of Puerto Rico," said Puerto Rico Economic Development Secretary Manuel Cidre. He added that the investment shows Puerto Rico's potential and experience in the medical devices sector and the trust that companies like CooperVision, which sell their products worldwide, have in the island's working environment.
Torres concluded that CooperVision's growth in production volumes, capital investment, job creation, and economic impact have been a driving force in Puerto Rico's economic development.
Torres emphasized the company's commitment to Puerto Rico since its inception in 1984 and expressed confidence in the island's ability to compete and dominate the global manufacture of medical devices and pharmaceutical products.
"The fact that Puerto Rico is the destination for these expansions has been the result of analysis, studies and the development of strategies of an extraordinary group that we have in Puerto Rico," CooperVision's COO said, "Our Country is a mine of talents and I am completely convinced that this island has the capabilities to compete and dominate the global manufacturing of medical devices and pharmaceutical products worldwide. We have to focus on where our strengths really are versus where the opportunities to capitalize on them are globally. We must use our capabilities as a spearhead to insert ourselves and meet the needs of parent companies and offer effective solutions using our local talent, beyond the traditional areas of manufacturing."