'Creando Verde' exhibit opens at Ponce Museum of Art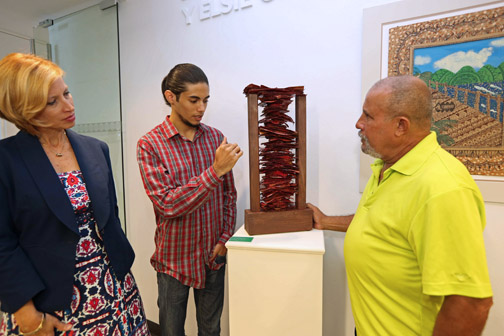 FirstBank and Fundación Proyecto La Línea de mi Pensamiento have joined forces to sponsor the second edition of "Creando Verde" an art contest for students between eight and 18 years of age focusing on creating ecological and social awareness.
This year, the competition that evaluates artistic renderings made out of recycled materials, was held among students in the Adjuntas, Coamo, Jayuya, Juana Diaz, Ponce and Santa Isabel, educational regions.
The five contest winners, were: Alejandra Negrón-Ventura, in the drawing category, from the Manuel M. Monserrate School in Santa Isabel; Hamid Burgos, in sculpture, from the Luis Llorens Torres School in Juana Díaz; Alexis Y. López-Hernández, in engraving, from the Adrián Torres Torres School in Jayuya; and Nelismarie Feliciano-Bonilla, in mosaics, and Kariangelis Rosa-Rivera, in painting, both from the José Emilio Lugo School in Adjuntas.
The students' creativity and talent stood out in the execution of each of the 100 pieces submitted in these five artistic media. Contestants used plastic caps, glass and tiles, plastic bottles, paper, cardboard, leaves, string and soda cans, among other recycled materials.
"We broadened the scope of the "Creando Verde" contest to other educational regions in Puerto Rico, encouraged by the success of last year's competition held in the Metropolitan area. Today we are confident that we accomplished our purpose to promote environmental conservation through recycling, among students in five southern municipalities", said Carmen Pagan, senior vice president, compliance department at FirstBank.
The "Creando Verde" exhibit, which includes the winning entries and honorable mentions, is showing at the Ponce Museum of Art until Jan. 7, 2016. The exhibit will then move to FirstBank's Service Center building in Río Piedras. The art pieces will be donated to the participants' schools.