Cruises flock to once-risky Colombian port of Cartagena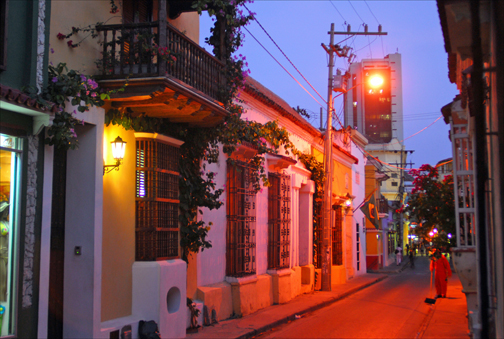 Last autumn, for the first time ever, the Florida Caribbean Cruise Association hosted its annual conference in South America. The five-day event, which lured nearly 1,000 participants to Cartagena, was an explicit recognition that Colombia's most famous port city is taking off as a tourist destination — just as peace talks between Bogotá and FARC rebels promise to end a guerrilla war that has been ranging for more than 50 years.
The fear once associated with Colombia — known in the 1990s as the world's murder capital, with cocaine-fueled violence and kidnappings scaring away all but the bravest foreigners — has largely dissipated. Today, Colombia is a popular tourist draw and Cartagena, with 1.2 million residents, ranks among one of its most-visited cities.
Over the next three years, some 9,700 hotel rooms will come on stream in a variety of luxury properties. These range from the five-star, 280-room beachfront InterContinental Cartagena — to open later this year in Bocagrande, two miles from the old walled city — to the 140-room Holiday Inn Cartagena Morros, located about 15 minutes by taxi from Cartagena's Rafael Nuñez International Airport.
Here's another solid clue that Cartagena has finally joined the ranks of popular Caribbean destinations: the 2012-13 cruise season is bringing nearly 350,000 passengers to the city, a 14 percent increase over the previous year's figure, said María Claudia Lacouture, president of the promotional agency Proexport.
During this season, 193 ship calls are planned at Cartagena's cruise ship terminal, up from 165. The growth is due to the arrival of Kristina Cruises and Paul Gauguin Cruises, and the return of Disney Cruise Lines for the first time since 2008.
"The arrival of the new cruise lines reflects Colombia's ranking as a tourist destination and consolidates Cartagena as a paramount city for the cruise line industry, having a positive impact on the country's image abroad and the local economy," the Cartagena de Indias cruise ship terminal said in a press release.
No vessel has called on Cartagena more frequently than Celebrity's Equinox, with a capacity of 2,850 passengers, according to the Cartagena Port Society. But that
At the FCCA conference, Richard Sasso, president of MSC Cruises, announced that his company's 3,959-passenger MSC Divina — built in 2012 and currently sailing around the Mediterranean — would begin calling on the Colombian port famous for its cobblestone streets and historic buildings sometime in 2014.
"We are not expanding as quickly as most other companies, but our growth is very well-planned," Sasso told FCCA members. "We have a long-term strategy, which includes adding a few arrivals in Cartagena next year for our ship Divina, thanks to this conference."
Likewise, Royal Caribbean Cruises Ltd. will bring its giant Independence of the Seas vessel to Cartagena for the first time in 2015. That ship can carry 4,370 passengers and 1,360 crew members.
"We are constantly evaluating our cruise routes," said CEO Richard Fain. "Of the many ports around the world, we maintain a presence in more than 100. However, Cartagena has earned a special place in my heart, and we love Colombia."
Cartagena, a UNESCO World Heritage Site, was established in 1533 and now ranks as Colombia's fifth-largest metropolitan area.
According to a report commissioned by the FCCA and conducted by Business Research & Economic Advisors, 293,449 passengers arrived aboard cruise ships during 2011-12, of which 286,113 were in transit and 7,336 were passengers embarking on cruises. Of the transit passengers, around 89 percent disembarked and visited Cartagena. In addition, 32 percent of the 36,196 crewmembers aboard those vessels also disembarked. Together, they spent $33.4 million, up nearly 36 percent from the $24.6 million in expenditures during the 2008-09 season.
"The 36 percent increase was the result of the 24 percent increase in passenger visits and a 10 percent increase in average expenditures by both transit and homeport passengers," said the study. In fact, per-capita spending for passengers in 2012-13 came to $98.79, up 9.7 percent from $90.03 in 2008-09, while per-capita spending by crewmembers fell by 35.4 percent during the same period, from $65.64 to $42.40.
Among transit cruise passengers, four categories accounted for 90 percent of onshore expenditures: watches and jewelry, shore excursions, local crafts and clothing. Nearly 40 percent of the passengers who went ashore made some sort of purchase, the study said.
The ongoing jungle battle between FARC rebels and the Colombian government in Bogotá isn't scaring away too many tourists lately from Cartagena, which is located hundreds of miles from the fighting.
The guerrilla war, which has been raging since the 1960s, may soon come to an end if peace talks now underway in Havana between government representatives and FARC rebels bear fruit.
Luis Carlos Villegas, Colombia's newly appointed ambassador to the United States, touted his country's new image during a recent speech at Washington's Center for Strategic & International Studies.
In 2003, Colombia's economy was less than $100 billion, ranking it seventh in Latin America. Today, its GDP is nearly $400 billion, Colombia third in the region.
"Back then, foreign trade was $25 billion a year. Now it's $120 billion. I don't think there's another emerging market that has seen such dramatic positive change," said Villegas. "When we first started negotiating with FARC in 1998, about 60 percent of Colombians were living under the poverty line. Today, it's three in 10, and extreme poverty is in the single digits. For the first time in 200 years, the majority of our people are middle-class."
With Colombia's GDP likely to grow at 5 percent in 2014 and a public budget next year of $115 billion — up from $30 billion 10 years ago — the government can now afford to build roads, improve tourism infrastructure and expand health and education networks like never before, he said.
"Ten years ago, our society had a lack of hope in the future," Villegas explained. "These days, we are hopeful, but the conflict — even if it's small and very localized — is an obstacle to faster economic development. So in order to become a developed country in the next generation, we need to remove the conflict. Every victim we can save from this conflict is a gain for Colombian society."