CUD urges retailers to prepare for hurricane season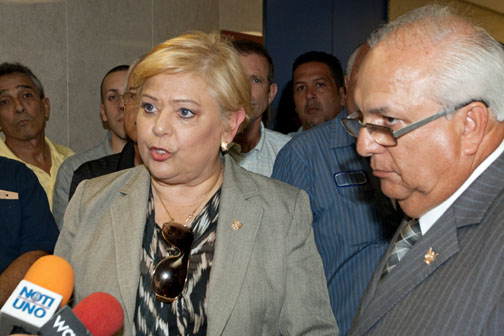 Given that several weather forecasting organizations have anticipated a very active hurricane season, United Retailers Association President Enid Monge is urging retailers to "be vigilant and have a plan" to protect their businesses against the problems arising in the wake of a storm.
"Although we say that Puerto Rico is blessed because in recent years hurricanes haven't affected us beyond heavy rains, we shouldn't forget the human tragedy caused by Hurricanes Hugo and Georges, whose heavy rains caused overflowing rivers and flooding," said Monge, head of the trade group known as CUD for its initials in Spanish.
"We therefore encourage retailers to prepare, both to protect their property and to help supply the public, especially stores that sell staple items and hardware supplies," she said.
She also advised the public to go to local retailers to make these purchases.
"Since the public has to buy these products anyway, they can also help pull the island out of the economic stagnation that has gripped it by sponsoring our local businesses," she said. "We all have a responsibility to contribute to the island's recovery and more so during a national emergency."
The contingency plan the CUD recommends for retailers includes: ensuring their inventory is protected against the effects of rain and flooding; protecting their documents, computers and other IT equipment; making sure their insurance policies are current; and in the case of stores that sell staple items, to pay attention to Consumer Affairs Department pricing instructions.
The National Oceanic and Atmospheric Administration predicted in its Atlantic Hurricane Season Outlook report that there is a 70 percent chance that between 13 and 20 storms will develop, of which seven and as many as 11 could become hurricanes. Furthermore, Colorado State University predicted a total of 18 storms for the hurricane season that began June 1 and ends Nov. 30. Nine of these storms will become hurricanes, of which four could reach dangerous categories with winds of 111 mph or more.
Monge also warned of the problems that these phenomena usually carry — winds, flooding and projectiles displaced by rain and wind gusts  — which on occasion have spurred an increase in criminal activities. In these types of emergencies, many businesses are more vulnerable because security and police surveillance declines as they shift their attention to protecting life and property during and after the storm.
To that end, the CUD is looking to take action, by establishing a business security network in cooperation with the Police Department to help protect business owners from criminal activity.
"In times of emergency, communication is one of the most important elements to plan security measures and recover after an atmospheric phenomenon. That's why we emphasize that it is very important to create safety networks that connect communities with government agencies and the authorities and help them do their job," Monge said.